Boarding @ Home: Day 18/84: An-diugh ann an co-là-breith mo phiuthar mhòr Anna
Today it is my big sister Anne's birthday! Co-là-breith math. [Happy Birthday.] And she did get cakes; not one large item but Bryan has made many small which Anne says she prefers … so no need for Samantha and Robyn to save the day. Our early arriving card is due to be displayed from dawn today in Edmonton too. She'll be well content; cake on Thursday and Hot Cross Buns on Friday. We phoned Canada late in our days but before any celebrations had begun. None planned … but did recall celebrating her 80th here in the UK with a party in Worthing with her late friend Joyce and many friends; and then a birthday reprise back in Milton with Elliot making her a cake.
Day 18/84 is also Maundy Thursday ... of course and 94 men and 94 women, pensioners all and good church people, will this year each receive their white and red purses from HM The Queen by Royal Mail since the planned ceremony at St George's Chapel Windsor has been cancelled. 94 because it's one for each year of her life; the white purse contains uniquely minted Maundy Money coins to the value of The Queen's age and the red some £5 in common currency to be spent by tradition on food and clothing.
Night 17/84 saw a full moon which the BBC's weather forecasters, seeking to enlighten national gloom, publicised so it clearly called for a photo. We were looking SE through the branches of the Dolphinstoun's American Tulip Tree, just beginning to leaf.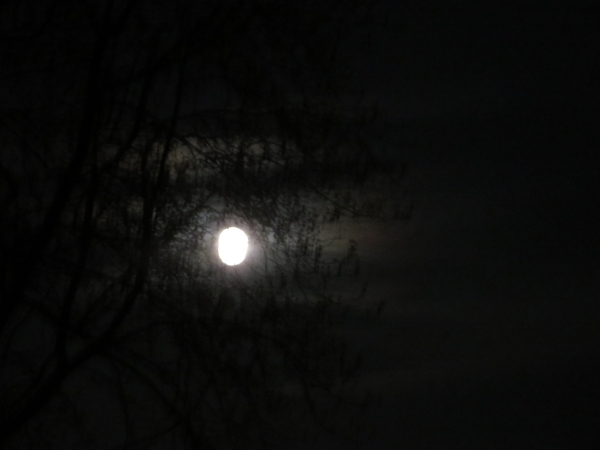 Priority setting's not a challenge for the aged but clearly 'tis for the young! As I noted Day 16/84, "I suspect for Arainn I am beginning to obganiate but for me the Clans that Came Out with The Prince at Prestonpans are numinous and there'll be no palinode proffered." We've a deadline to update VisitScotland that I want to keep; they remitted their funding so we have promises to keep! He's promised the other outstanding from March 31st for HES who are scheduled to remit £4K when we do as we promised.
Published Date: April 9th 2020