A Most Excellent Occasion at Buckingham Palace
Joining The Most Excellent Order as an Ordinary Member: MBE for services to the community in Prestonpans

..... 'twas announced in the London Gazette to the delight of Gordon Prestoungrange, former Baron of Prestoungrange now of Lochnaw, his family and friends, in HM The Queen's Birthday Honours in 2013. And it always takes a while for the formal ceremony to occur. For Gordon there were two new titanium knees to install. But by June 27th 2014 the Invitation to Investiture at Buckingham Palace could be accepted and HRH The Prince of Wales was there to do the honours - as pictured below.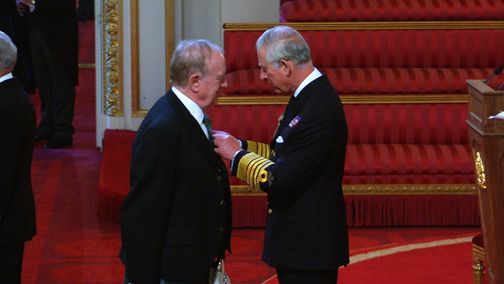 For services to the community in Prestonpans

Gordon held several professional roles in life before he was infeft in the Scottish feudal barony of Prestoungrange aged 60. He was a lifelong University teacher, researcher, author and leader from 1965 until ultimate retirement in 1998 as Principal of the International Management Centres and Revans University. Working with colleagues from 1967 until 1998 he had helped create and take into the digital age one of the most significant academic management publishing houses in the world, EMERALD.

Serving the community in Prestonpans, which won him the honour, has been and remains a labour of love. His mother, born close by in Musselburgh but who went to England as a young girl, married, and emigrated to Canada in her later years, had always insisted that her sons and daughter should return there one day - at least one of them! It was on his retirement that just such an opportunity presented itself for Gordon.

Over the past 16 years much happened on his watch as 14th Baron which has been described in his factitious novel A Baron's Tale and myriad other publications. What Gordon learnt and taught in the University world and a wee portion of the benefits arising from his publishing career have been deployed, through the arts, in support of Prestonpans as a recovering post-industrial community on the shores of the Forth. It was here his grandfather once briefly worked in the coal mine and where his 19th century maternal ancestors' family, the Parks, won The Open no less than seven times.

As was to be expected, Gordon went to the Palace kilted and wearing his two feather entitlement as a feudal Baron with his son Mathew, 15th Baron of Prestoungrange [left], Avril Lady Lochnaw and son Julian, Baron of Dolphinstoun - pictured here in the Palace Courtyard after the Investiture and before a celebratory lunch at The Reform Club together with Laura, Lady Dolphinstoun.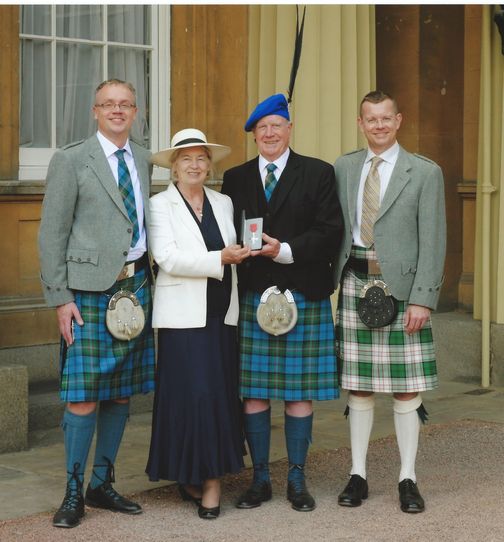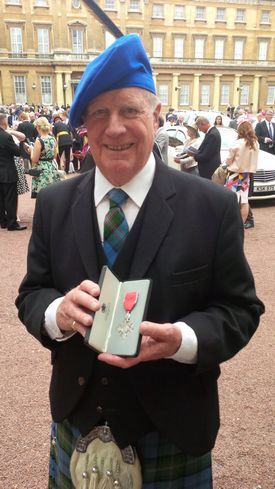 Published Date: July 2nd 2014