Boarding @ Home: Day 9/84: Highlit Dates & Gŕidhlig lessons ...
Promised not to make today's inhouse chiropody a focus ..so just a mention! Real focus is short term planning of the imminent birthday. They're going to come in handy these highlit events … we've done UK's Mothers' Day but much to look forward to: Mother's Birthday, Anne's Birthday 9th/ Maundy Thursday, Good Friday, Easter Sunday, St George's Day [23rd], Anzac Day Australia [25th] & New Zealand [27th]; May Days [1st & 8th], Mothers' Day in both Canada and USA [no dilemma there for Meghan and Harry's son Archie Windsor!], Julian of Dolphinstoun's Birthday, Pamela's Birthday; Natasha's Birthday …. We can practice all the while to keep our hands in with the vital planning skills we are going to need during my proclaimed National Pregnancy.

Back to my isogogic study of Gaelic then ..the eventual purpose is to be able to enjoy Ronald Black's 18th and 20th century anthologies of Gaelic poetry … where to begin: Tha Gŕidhlig snog agus math/ Chan eil Gŕidhlig snog agus math? For the moment I'm persisting with the phrase I learnt in 2014 to open our Homecoming 2014 exhibition in Prestonpans Fŕilte gu grčis-bhrat diaspora na h'Alba! which I'm assured means Welcome to the Scottish Diaspora Tapestry @ www.scottishdiasporatapestrygaelic.org N.B. Click on the Union flag top right and you'll get back to English. Why all this intrigue? It's a well established fact that more people in Prestonpans spoke Gaelic in September 1745 than do today, because the great majority of The Prince's Highlanders used it. As such we began making a virtue of using it on street and walkers signage and when telling the Prestonpans Tapestry tale and when 'Taipeis Phrestonpans ga sealltainn aig Pŕrlamaid na h-Alba' - it appeared on display in the Scottish Parliament shown below.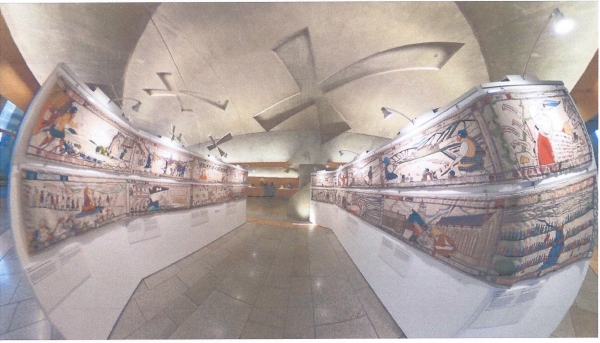 Gaelic is an official language in Scotland since 2005 and awareness and appreciation of it is actively encouraged. So we have resolved for the 275th Celebrations to take it a little further forward. We've launched a nationwide Invitation for 500 words new verse/ prose or otherwise artistic contributions in Gaelic, initially before Covid 19's appearance from 10/17 year olds but now extended to allcomers. The link is HERE

Wandering pheasants seems to be in lockdown too We could always expect a pheasant or two escaped from 'down Barn Lane' to wander across our lawn, but not this last 10 days. Are they truly in lockdown or have they been taken in as extra provisions? To ensure year round pheasantry, Avril acquired the unnamed character shown below. Sir Toby, next door's dog, ců in Gaelic, ignores it nowadays after an initial abortive approach.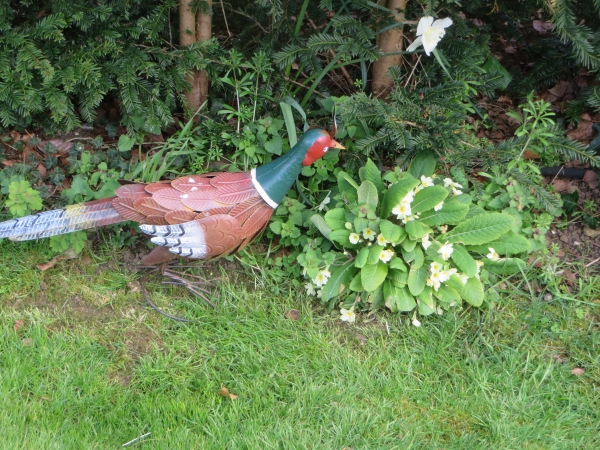 Published Date: March 31st 2020