Boarding @ Home: Day 8/84: Beds for Hedgehogs are Essential
Recycling auld newspapers. Always scope to be amazed despite my loathing of the adjective. Milton's 1979 Coffee Cohort includes a well experienced Friend of The Hedgehog who assures us that as young hogs leave hibernation and grow up in their safe arbour they need bedding and auld newspapers are seemingly ideal. I'm unaware how medieval hogs coped. Today is Essential Collection 2, all copies duly left at a long distance from their erstwhile readers. We're DD voucher economising readers of a home delivered Daily Telegraph these days; an extraordinary initiative for our digital age where we get wee daily vouchers through the post that we must render to our newsagents who then send them to their wholesaler to garner 1p each for their administrative troubles and we just pay the wholesale price. There's even a current offer available for 'free' deliveries during lockdown which we normally settle for additionally with the newsagent. Reading the paper in bed with a mug of tea is still surely one of the great pleasures of later life.

Mother's Day Horticulture makes progress. Today's photograph shows the progress since March 22nd of two filial gifts - the garden in the bottle and an abundance of cornflower seedlings in Julian's bucket. The latter are causing concern, getting leggy, bolting. They both bring confirmation that Spring has no caesura indoors even if a reversion to cold northerly winds and frost suggests otherwise outdoors. The former shows Mathew's remembered project in 1983/ 1984 sponsored by Express Lifts - immortalised by the late Sir Terry Wogan as home to Northampton Lighthouse, the test tower for its lifts standing at 418' was built in 1980 and officially opened by HM The Queen. The Lighthouse lives on alone today as a Grade II Listed Structure surrounded by new housing development.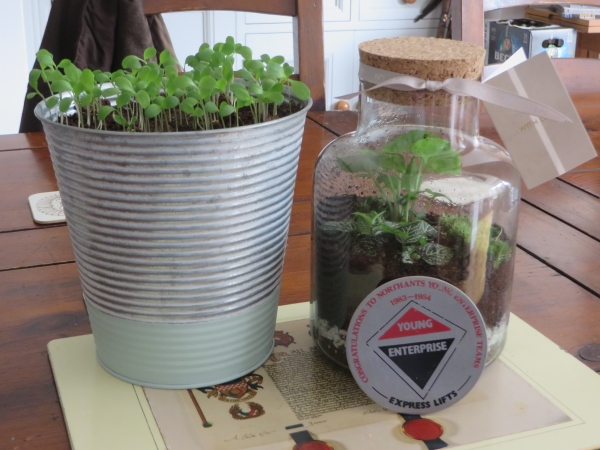 'Three to six months before we can get back to normal ..' That wasn't Donald Trump of course; he wants to see action in the US by Easter. It came from the lips of Dr Jenny Harries, a Medical Leader at last night's Downing Street Press Conference. Six months by my counting takes us to late September just in time for schools, colleges and universities. Avril and I have been/ still are hoping that our 84 days will be sufficient. Six months will be more than a tad close for our Scottish Celebration Weekend on 19th/ 21st that month. Should we begin to ponder fellow Trustee Joe Goldblatt's serious request for Plan B. Should we concede 2020 is for ever lost and refocus on 2021 when it's Prestonpans' triennial fullscale re-enactment moment?
Sharon Beck got me thinking about my university sabbaticals and the re-entry to academic life after normally being away for six months. I typically came back to an empty diary and no pressing leads to follow through. One can imagine ourselves this time, after all being away from one another, spending ample time at the water cooler or photocopier sharing war stories. The challenge will be to seek to fill those empty diaries in the latter stages of lockdown. Perhaps we can give all this waiting time a name - The National Pregnancy. We can strive to be ready to hit the deck running to change metaphor. But it wont be business as usual anymore than life with a new born is!

Made a tenty restart this morning on my exercise cycle. I'd not felt fit enough till three days ago and I'd procrastinated. The delay came after the exertion of that 1.5 mile walk with Elliot to save ourselves from the mud stranded Ghibli. I just pedalled for 6 minutes gazing across The Dip towards the current grazers, three white cattle. My ambition is to recover to the norm of 15 minutes combined with right and upwards vision exercises. We'll see ...


Published Date: March 30th 2020