Boarding @ Home: Day 10/84: Avril's Birthday with Cake, Cards and a New Loo
No fooling today! She's heard it all before … no taradiddling* or bafflegab* please …. Clearly Mathew hadn't got the memo so he gifted his mother sponsorship of a toilet for 1/2.3 billion who as yet don't have one. Can't says it's not thoughtful. Avril's bedecked beside, with her gifted necklace and generous new shoulder bag - Taurus from Culture Vultures! [click to enlarge]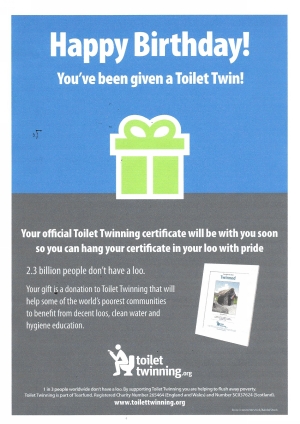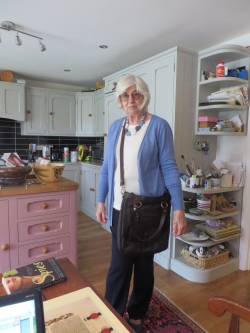 The text messages began quite early and the emails, Facebook Greetings but later Messenger link up failed so back to phone and great song from the three granddaughters. Later tonight the phone from Edmonton rang as expected with Bryan's rendering of the HandWash Song; they have a thousand minutes included in their cable tariff so it's always them phoning us. But the Canadian post office seems to have got challenges with air mail cards since most of the planes stopped flying. Be intriguing to note how long the cards take to arrive eh!
Cake and Tea at 2 metres with Jules and Laura, Elliot of Lochnaw and footballing Henry Yr of Dolphinstoun... just like Mothers' Day … and updates on the state of play in Buckingham and Queensland … gluten free candeled cake of course [thanks Laura] and cold northerly wind but well worth the encounter. Warm weekend is promised ….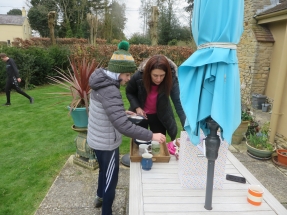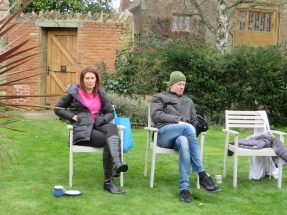 Seems music classes for Elliot's saxophone are continuing during school lockout from Wellingborough online so here's me hoping he throws open his bedroom window and I can hear his errant tones from the east. Better than that though, since the two grandsons were unable to go shopping for a card, under their father's artistic tuition they created what appears below [9/10 at least] … there'll be more on their father's Boscage period as an artist in the coming days no doubt..... Henry was disadvantage by the absence of khaki lefthanded scisscors …. [ I got amazon to send him some and next day got a phone call from Henry saying Tapadh-leat!]…. but first the interior of Elliot's card …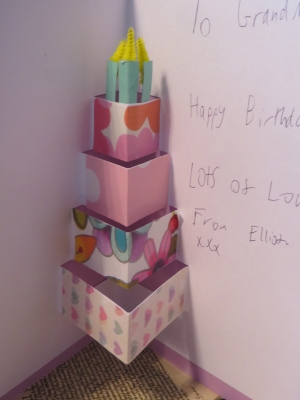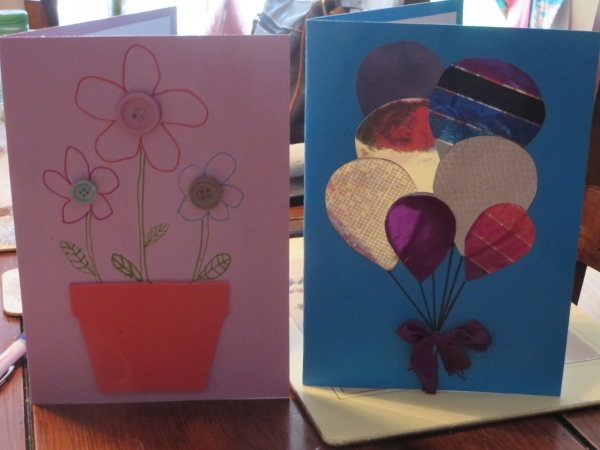 Gooseberries return with last year's summer fruits in compote [2] .. all to provide a mellifluous ambience for my breakfast Grapenuts; plentiful in supply. And Laura's been canvassing for the 'family' weekly shop they will be undertaking tomorrow. Wish list includes fish pie for Friday but we're prepared for disappointment. No success in getting any delivery slots but not yet asked South Northamptonshire Council to assist as I believe we might.
Making progress with Gypsy book drop last week from Carol - first under is Michael Frayn's Spies to be followed by Snowdrops … more as it happens.
______________________________________________________________________
* For the record, the advent of so many unusual words in these blogs is attributable to Battle Trustee Sir Herbert Coutts MBE, Bailie of Dolphinstoun, who draws attention to them without amaritude. They come from a Christmas gift last December from Avril of Steven Poole's A Word for Every Day of the Year. For April 1st he proffers taradiddle, prankish untruths.

Published Date: April 1st 2020