Boarding @ Home: Day 5/84: Coffee twosome becomes routine!
Another sunny day and the frost still not afflicting the magnolia blooms. Julian and we in The Lodge both have grand trees. The Magnolia Grandiflora on the Dovecote wall is a late flowerer when it deigns so to boast.... but worth waiting [10 + years] for.

Brioche + Hot Cross Buns + Bagels + Seeded Brown Loaf. No shortage here, just a consumption scheduling challenge. Helpful shopping by helpers leads to its own distortions then. But we are making inroads on the Potato Skin + Leeks + Cabbage broth from our WWII recipe book. Not an original tome; bought two years ago as a curiosity to beguile the grandchildren. I do still have my original petrol coupons from the Oil Crisis and my WWII Identity Card EMJE 57/4.

It's Friday again and we've institutionalised the notion of Twosome Coffee Mornings to stand in for the 1979 Ladies of Milton Cohort currently in abeyance. Again it's rice biscuits, one chocolate and one coffee. But it keeps the home fires burning.

Eldest son Duncan phoned from York. His self-employed work as a builder/ estate manager is in suspense like Julian's LJ Lifestyle here at Milton. He's got his two daughters living in with him, Florence still a schoolie and Eleanor out of work during a gap year before going to read Zoology at Reading. Long Radingensis line up .. Duncan [Estate Management], his mother Barbara [Latin & English], myself Politics & Economics and now Eleanor.

If Anne had been here for lunch she'd have been impressed today! Evidently we have 5 cans of this fine Heinz tomato soup and the picture below reveals once again the Aussie preference for Vegemite - alas the Benecol Margarine is Buttery not Olive Oil ….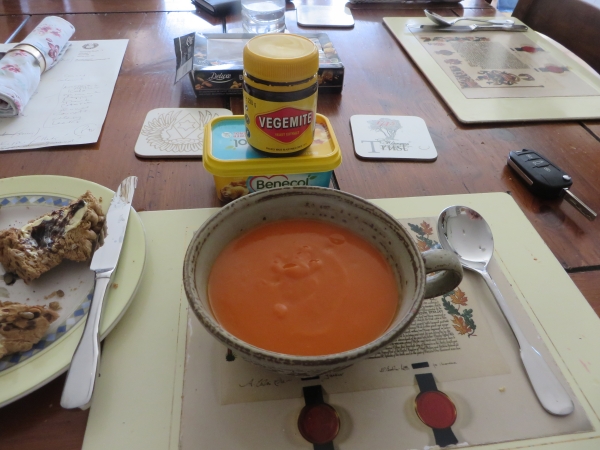 Published Date: March 27th 2020