Boarding @ Home: Day 3/84: Benecol and Cactus
Olive Oil Benecol is my clear preference!

It's always been hard to get Olive Oil Benecol but I've tracked it high and low for 17 years since my 65th birthday visit to the GP who told me it was good to keep cholestrol under control. Claims to reduce it by 10% daily … and I not only use the margarine version to the dismay of all my family but also the wee fruited drink. Today saw the last wee raspberry drink and the last scrapings of my carton of Olive Oil margarine on my half baguette crisped under the grill to give me breakfast with lemon cheese spread + coffee; and then lunch as a Ploughman with St Augur blue cheese, cucumber, lettuce and tomato and beetroot - that last the famed Aussie burger touch!

Prince Charles and Camilla have just reported from Birkhall House in Scotland that they have a touch of mild Covid 19 but so far so good here at the Manor House and its curtilage. In fact the weather's been so good we've spent awhile in the garden, Avril pruning roses and myself reading Ann Cleeves final Shetlander volume. I've greatly enjoyed it; far more so than its tv representation. And Perez and Willow and Cate seem set for a new life together in the Orkneys. I've not been tempted to buy her equally famous Vera volumes. I hear there's a new Detective Inspector in Devon on the horizon....

The Citroen Cactus has been long short on heat … Trying to get Avril's Citroen Cactus fixed electrically has been a saga. It's seemingly simple; the hot air blower doesn't blow. First step I managed myself was the fuse. Not that. It's apparently so complex it has to get a special part from far away to do the job. It was checked in for today before PM Boris' New Rules came into force so we wondered how it might make the short downhill distance, half a mile west to Blisworth. We phoned and the garage offered a pick-up-and-return service if we wanted to go ahead; and so we did just that. It was certainly encouraging to see how our garage had acted to avoid losing business whilst the Chancellor still ponders how to deal with self-employeds in the present context.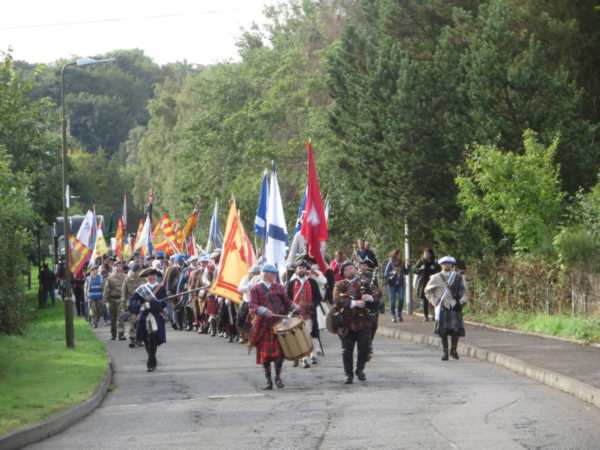 Why no Scottish action then? It's true my daily endeavours are normally 75% digital Scotland. But not this week. Our major £200,000 Project Celebrating The Prince's Victory 275 Years Ago in Prestonpans is on hold. We'd only just launched the first element for 10/17 year olds to create new poetry/ prose/ artwork when the balloon went up metaphorically speaking. But I have got two elements I'm moving along once the mist has cleared: a Gaelic language initiative in partnership with East Lothian Council and an Online Clan Gathering to echo the plans for just such a f2f moment on September 20th 2020 in Prestonpans Town Hall. The last time we got a goodly gathering of those who Came Out with The Prince on September 21st 1745 was in 2018 and that provides today's photograph.

P.S. The day ended with Mathew's starring IT contribution to match Boris and the Cabinet Meeting online today .. using Facebook Messenger we managed to link all the family at Ilkley with us here in Milton including Lorna who's lost her taste and smell and is in self isolation but still at work on the 3rd floor at Linndale.


Published Date: March 25th 2020