Boarding @ Home: Day 1/84: Freedom in Suspense
Catch Up … for the context!

I wanted to use the next 84 days [12 weeks in purdah] to write the sequel to A Baron's Tale but Avril said not. My brother Bryan from Edmonton, one of the tome's select group of known readers of that Tale since 2010, urged Yes. He recalled Griselda's wish to be back at its final moments to see just how the tapestries went along and to attend the book launch … good peg Bryan said at his reading to return to the Tale. But pro tem, it's going to be this blog - what US citizen and Prestonpans Battle author Martin Margulies dubbed microhistory when he'd read the Tale.

It's certainly going to be different from what I've blogged about since the mid 1990s at MCB now EMERALD or since August 2000 @ http://www.prestoungrange.org/prestoungrange/html/news/news.asp - which is all that's left as archive.

Really I'd better start at March 15th, some 8 days before PM Boris Johnston declared us officially 'shielded' for 12 weeks/ 84 days. Grandson Henry, next door in The Manor House, was playing football and Avril and I were asked by mother Laura to keep an eye on Elliot because Julian was away at Merthyr Tydfil mountain biking; which we did. We played Snap and Fish but tiring of that Elliot and I set out in the Maserati to post a letter and deliver the SBT signed accounts to Sylvia in Silverstone. All done we had time to spare before lunch - it was barely 11am so I suggested we visit the school to which I was evacuated in WWII at Lillingstone Dayrell. We headed up past the then Kingston's Home Farm, past Whittlebury of Christmas 1944, along the A413 to turn off for Tile House Farm and the memorable red letter box. After that it's a track really past the Rhodedendron Walk to the back gates of Tile House itself - the school where I was bitten by a squirrel and where my mother made picnics on a primus stove by the lakes. But the present owners saw me as a potential trespasser and had erected a padlocked gate and sign to warn me off. So I thought let's keep going to find a good place to turn around on the single track.

That opportunity never arose since after a mile and more Elliot and I became becalmed on a pile of mud unable to move the car forward or backwards. Elliot manfully twice went in search of assistance but with no luck; so I had to scramble across the car to the passenger door [driver side wedged on field banking] and begin the Long Walk back whence we had come. At the time I reckoned a 200 yards walk was my optimum/ maximum distance taking into account my right hip whose replacement on March 18th had already been postponed on my sayso to obviate an impending double whammy. But needs must; we walked a mile and three quarters without a fall putting in a borrowed phone call en route to be collected - the Maserati abandoned. All thoughts were now for the RAC to retrieve it miraculously. But the boyfriend of the borrowed phone owner was reportedly a dab hand at towing cars out of mud so the kind offer made was accepted. We'd go home and take lunch and when we got their call we'd return and drive the Maserati home. If only. The acclaimed boyfriend inadvertently pulled the front off the car breaking the tow bar as he went and damaging the bumper and lights.

He was most apologetic, polite, and anxious to be reassured he was not liable. I said of course not; he was working at my invitation … so it was for the RAC to take over, which they eventually did on Monday 16th placing it on a low loader and transporting it to Merlin's Repair Shop in Brackley. They assessed the damage and costed it out. To secure the parts they asked I settle the considerable cost up front which I did only to discover that the parts suppliers Marshall have lately closed their doors pro tem because of Covid 19 and they would not reach Merlin in Brackley for the foreseeable future!

As fortune would have it, 3/84 below reports alternative good news on the 4 wheels front!

I've still not got to March 23rd ... The week following should have seen me at 3 Shires Hospital on the 18th having a right hip replacement but as already mentioned I saw a double whammy coming and opted out! But son Mathew from Ilkley had already sorted his logistics for a hospital visit linked to picking up two of his daughters from Nottingham and Birmingham Universities to take them home to study online. So he was able to visit Milton Malsor at a social distance and deliver Avril's Mother's Day gift of a plant in a bottle - a gift he'd previously achieved when he was 18 at school [he's now 53] as a Young Enterprise Project at Bugbrooke School from which endeavour he brought an archival matching coaster! He had Nottingham [Francesca] with him already and next needed to collect Natasha from B'rhm.

Friday 20th should have been Coffee at 'Anne's' - a Milton social group since 1979 which Avril has attended every Friday. But with isolation imminent for the over 70s [tous les deux] it was cancelled and I was able to issue a personal invitation for my wife to join me for coffee at 11.30 am which she gladly accepted. Coffee is of course a misnomer, she drank hot chocolate to my coffee but we shared a chocolate coated rice biscuit or two. And the sun shone since it's glorious Spring time now for the magnolias, camellias, daffodils, violets, primroses and more.

Talking of which, Avril had decided to sneak a last visit to a deserted Dobie's Garden Centre bringing home fascinating vegetable seeds and seed potatoes - which were quickly planted the following day in our vegetable boxes and black bin bags!

Saturday 21st March saw a visit to Dane's Camp Medical Centre. It was vital to know what the NHS plans for treatment of Avril's AMD in her eyes might be with her next check on April 4th. 'Claire' there reassured her that, thus far, it was expected to be testing/ treatment as usual. It was the outcome we necessarily wish for and which we trust can be delivered.

Sunday 22nd was Mothering Sunday .. how could that pass unaddressed? Julian, Laura, Henry and Elliot assembled on chairs socially distanced in the side garden of The Lodge at 11.30 / 12 noon. A gift and a card were placed on the table especially given a post-winter scrub and it was great news that the gift was for the garden ...of which a great deal more shall be expected in these 84 days no doubt. We dined well on cooked ham and myriad vegetables.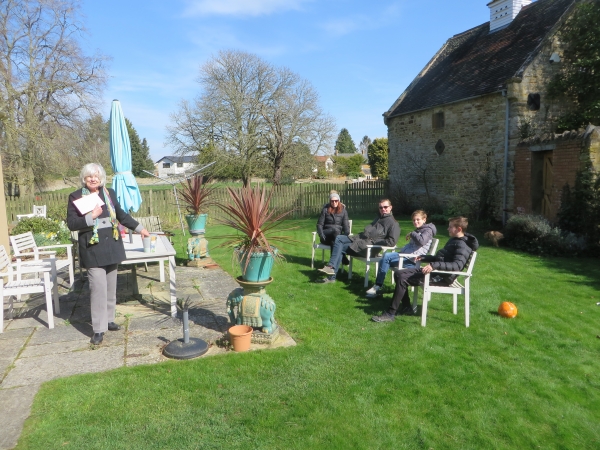 …. AND SO TO March 23rd … and our purdah for 84 days begins! Tim the PC Support was due to take this laptop away to debug it after too numerous hackings for comfort. But again that seemed a whammy not wished for so I cancelled by email. [Tim was to call later by phone to check whether the cancellation had been from me or the imbedded hacker!] How will we get shopping done? Laura and Julian have of course suggested they'd help and so has Sylvia from Silverstone ..so that seems to be covered. We slept well.


Published Date: March 23rd 2020