Plus ça change ... Blindwells it shall be!
Blindwells has been confirmed as the name for East Lothian's new town that is being created on the Prestonpans 1745 battlefield which became an opencast coal mine as the A1 south east of Meadowmills was created.

The Battle Trust which campaigned for Charlestoun is of course sorely disappointed. You can't win them all. Although of course Bonnie Prince Charlie might have hoped for a repeat win in Prestonpans since he did lead his Highlander army to Victory across the very same land. It was then best known as the Riggonhead Defile.

The new town has everyone best wishes for its future

Six names had been shortlisted for the new town being created at what became an opencast mine called Blindwells, between Prestonpans, Tranent and Longniddry.

East Lothian Council had initially said it wanted a "new name for a new town" and asked school pupils to help it compile a shortlist. The resultant list of names arising and then put out to a further process of public consultation was: Blindwells, Charlestoun, Hattonfield, Hopetoun, Muirdale and Nethermuir. However, the move brought anger from some elements in the local community who believed the settlement should retain the coal mining associated name of Blindwells from the last century.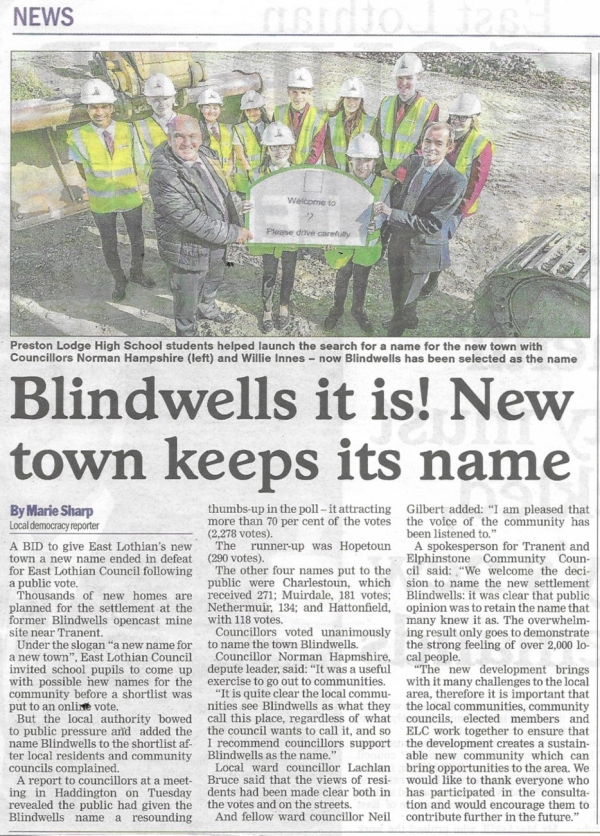 A meeting of East Lothian Council in Haddington last Tuesday learnt that no less than 70 per cent of those it consulted had stated that Blindwells was their preference for the name of the new town - although there has been no immediate clarification of just who took part and how they were made aware of the opportunity to express an opinion. Certainly the Trust had not been notified; notwithstanding that our Petition to Council in this respect was prorogued in October on the grounds we would be engaged! If we'd been asked, this is what we would have said!

No room for sour grapes; social media have it!

Council officials, after 6 months of deliberation, have boldly recommended approving absolutely no change at all. Those who expressed their anger initially and rallied the voters online can now celebrate. Blindwells will be the new town's name ... plus c'est la même chose.

To the Trust's very considerable surprise, this recommendation was unanimously agreed by Councillors. They after all had the wisdom initially to see how a new uplifting name could give the incoming families a name they relish more perhaps than Blindwells.

The Battle Trust commented: "We campaigned for Charlestoun, and see this outcome as a missed opportunity to give the new incoming community an internationally understood and memorable sense of place. Nevertheless our determination to see the battlefield commemorated and interpreted at Blindwells remains as strong as ever as the County Archaeologist argued it must be from the outset of this bold initiative to create homes for thousands of families in the coming decades."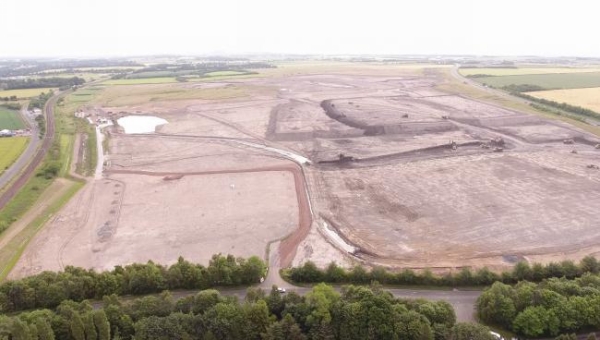 Published Date: December 17th 2019