Tribute to Archie Baird BEM - Champion of Park Family's Golfing Dynasty
Tributes paid after death of well-known golf historian Archie Baird

WELL-KNOWN East Lothian golf historian Archie Baird, 95, peacefully passed away on December 7 in North Berwick.

He moved to East Lothian after he retired from working as a veterinarian, living in Aberlady for more than 30 years. Archie met his wife Sheila Park, whom he was married to for more than 60 years, while he was studying at veterinary college and she was studying medicine at the University of Edinburgh.

Archie, described as a cheeky man of huge character, founded Gullane Golf Club's Heritage of Golf Museum, which he opened in 1980.He was a long-serving curator at the museum and an author of several books on the history of golf. He was Captain of Gullane Golf Club from 1976 to 1978 and an honorary life member at the club and also a member of the Honourable Company of Edinburgh Golfers, Muirfield.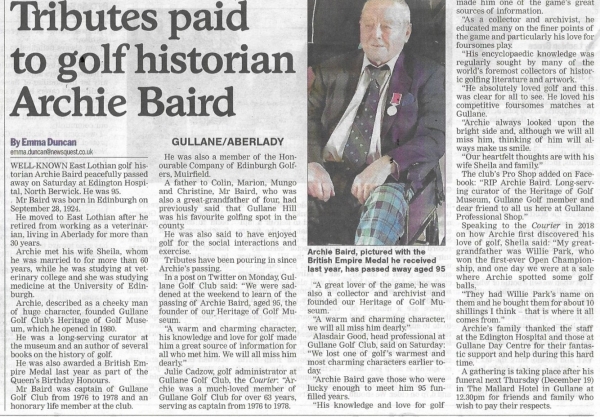 His knowledge and love for golf made him one of the game's great sources of information. As a collector and archivist, he educated many on the finer points of the game and particularly his love for foursomes play.

His encyclopaedic knowledge was regularly sought by many of the world's foremost collectors of historic golfing literature and artwork.

Archie Baird married into a great golfing tradition

Heartfelt thoughts are with his wife Sheila Baird and their family.

Speaking to the East Lothian Courier in 2018 on how Archie first discovered his love of golf, Sheila said:

"My great-grandfather was Willie Park Senior, who won the first-ever Open Championship as did his bother Mungo later and his son Willie Park Junior. One day we were at a sale where Archie spotted some golf balls.

"They had Willie Park's name on them and he bought them for about 10 shillings I think – that is where it all comes from and his determination to create the Museum."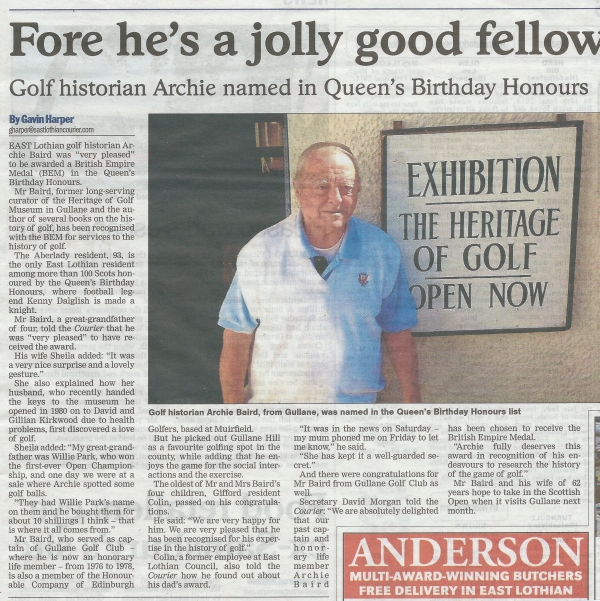 Published Date: December 20th 2019