Sprouts on the battlefield? 'Tis Cultural misappropriation ...
Scotsman, Edinburgh Evening News & Edinburgh Live suggest some festive goodwill

Thanks for that piece, Marie Sharp, Local Democracy Reporter . ... but it's more than that required. Prestonpans hosts a significant national battlefield and ELC has a statutory responsibility to take account of that in all its decision making. Sprouts are cultural misappropriation on every count.

The insensitivity shown in 2019 can indeed perhaps be offset by accepting the 'contra principle' that the financial gains it is making through rental income from sprouts should be applied to the preservation and interpretation of that battlefield.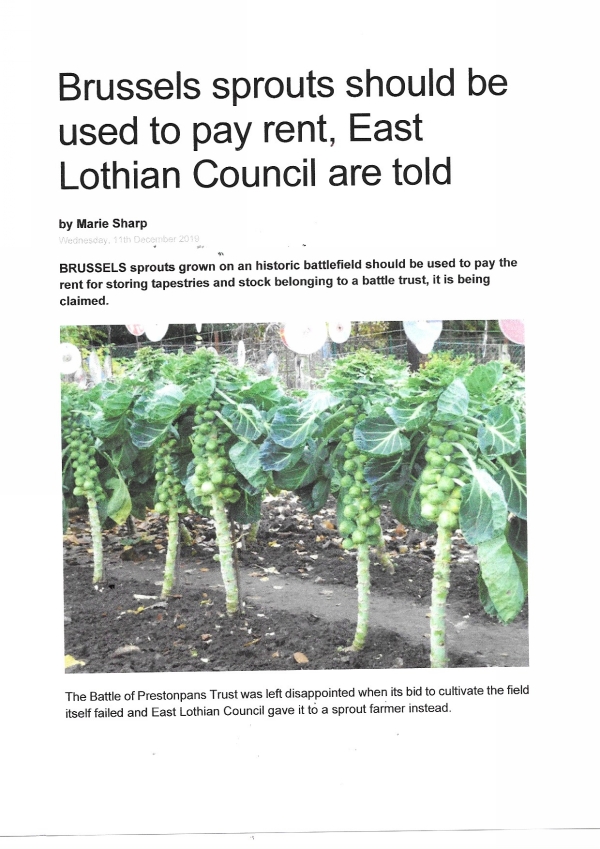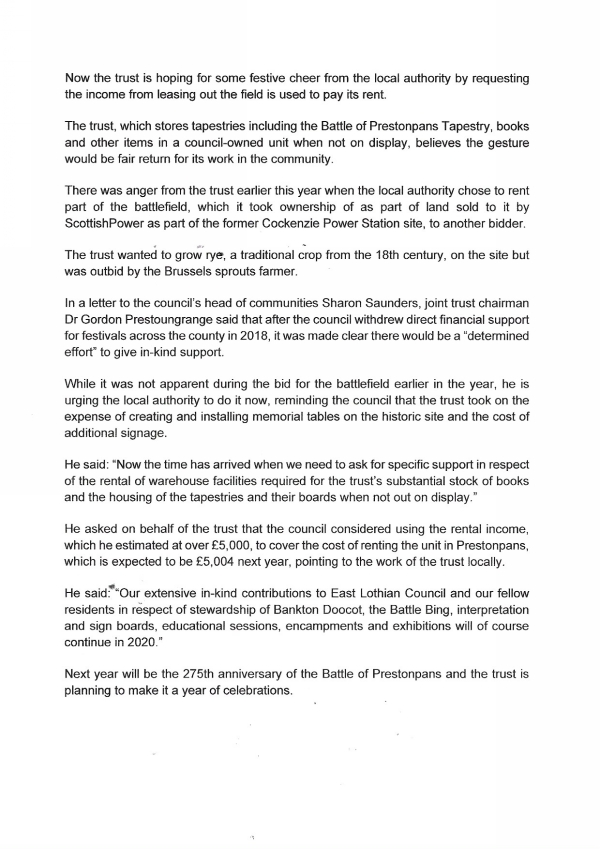 The Scotsman ….. looks for Peas in our Time rather than Sprouts!

Battle of Prestonpans Part II sounds like Christmas-themed April Fool – leader comment

"The row over sprouts vs rye on the field where the Battle of Prestonpans was once fought takes a new twist.

"It sounds like a strange, time-bending Christmas-themed April Fool's story but, apparently, it's true.
At the centre of this tale is a field being used by a farmer to grow Brussels sprouts, arguably the most festive vegetable of them all (you can make a case for parsnips or roast potatoes, but we digress).

"However, 274 years ago, something extremely unpleasant happened on that same field as several thousand men tried to kill each other, succeeding hundreds of times, in what is known as the Battle of Prestonpans.

"And, for this reason, some of the proceeds of this modern-day farming enterprise (in the form of the rent paid by the farmer to the council) is being sought by the Battle of Prestonpans Trust to help them pay for the storage of a tapestry, books and other items related to the battle.

"The trust was previously outbid by the sprouts farmer when they tried to lease the field, planning to grow rye as this was apparently a traditional 18th-century crop.

"History is important and the trust no doubt does good work. But we shouldn't stay in thrall to the past. Perhaps a different crop would help. Peas in our time?"



Published Date: December 12th 2019