Battle Looming?? Lack of Support from ELC? It feels that way ...
It's 10 years since the Petitions Committee of ELC gave the Battle Trust support for a new centre and home for the tapestries .. and so far, zilch!

In that time the Borders has found a home at Galashiels for the Great History Tapestry and Falkirk has found a home for its new Battle Centre there. We tried at Prestongrange Museum but the Lottery declined to join with us because amongst other reasons there was no Master Plan there. There still isn't - just, we are assured, an emergent Vision.

All the land around and including much of the battlefield is now owned by ELC, purchased from Scottish Power. For that it has already commissioned and has to hand a £150,000 Master Plan which it refuses to adopt, preferring to call it a Vision. Meanwhile ELC has leased out the battlefield to grow Brussels sprouts! Great news ... our leaders are Visionaries....

That's why the exasperated Trustees briefed Local Democracy Reporter Marie Sharp writing for both the Edinburgh Evening News in September [bottom below] and East Lothian Courier last week, telling of these frustrations as documented below.




GOOD NEWS: 2020 is the 275th Anniversary of the Battle and the 10th Anniversary of the Prestonpans Tapestry

Nevertheless, the Trust has ambitious plans to celebrate and commemorate. We've asked the National Lottery Heritage Fund for support and are planning to match that with some of our Restricted Tapestry Funds already collected.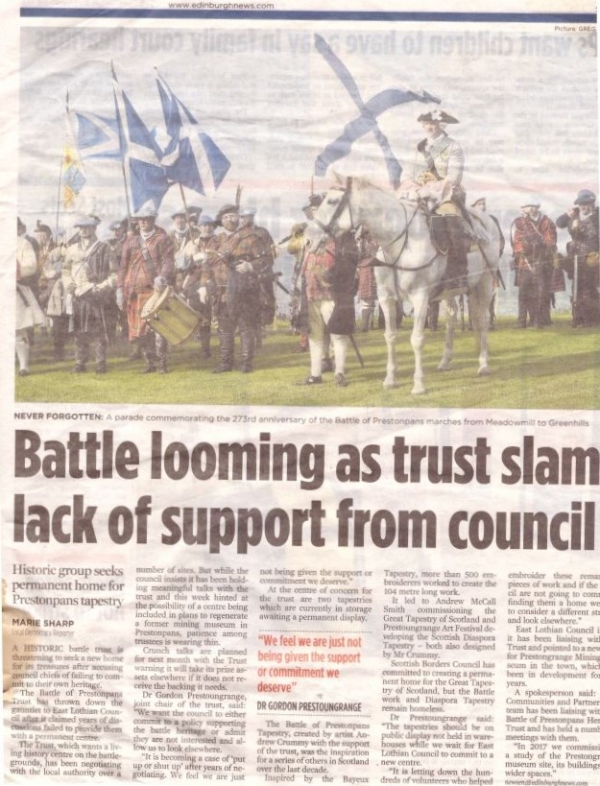 Published Date: December 1st 2019