Strathallan Horse at Prestonpans September 1745
Brothers came to battle - David and Stuart Threipland of Fingask

Both David and Stuart rode for The Prince at Prestonpans. David was to become one of the last casualties whereas his brother went on as Surgeon to The Prince throughout the campaign. Their father Sir David Threipland, who had come out in 1715 now aged 80, was unable to join his sons and The Prince at Prestonpans and died happily on learning of the Prince's Victory there.

The brothers served in Viscount Strathallan's Horse and, although not at Prestonpans, the Viscount personally came out in 1746 at both Falkirk Muir and Culloden - where he was eventually killed as he fled in the company of The Prince.

In July 2019 Gavin Murray Threipland, a distant descendant, approached the Battle Trust to help locate the spot where David died in the hope some memorial might be placed appropriately.

That location and manner of David's death is well recorded both factually and figuratively in literature by Sir Walter Scott in Waverley.

David alone gave dangerous chase to Cope's fleeing dragoons after the battle

The facts are recited in Dr Robert Chambers, 1853/1880, The Threiplands of Fincask pp 40-41. As the Dragons fled up Johnny Cope Road via Birslie Bray some headed for Edinburgh, indeed that small detachment made it to the castle gates and were admitted there. It is presently assumed it was this small group which David pursued, alone, until some two miles from the battlefield, one turned upon him and shot him with his revolver. The report states it occurred exactly at St Clement's Wells [which is today the name of a burgeoning housing estate east of Wallyford.]

David's black charger was presented for sale at Perth some months afterwards and bought by friends suggesting it must have been retrieved by fellow members of the Strathallan Horse.

He was buried virtually where he fell which, by the time of a visit by Sir Walter Scott himself some 40 years after David's death, was recounted by the local country people. Sir Walter was presented with a small silver clasp taken from his clothes. His grave was reported to be 'beneath an ash tree within a field gate, opposite the ruined distillery'. Fortunately a 1799 pre OS map indicates the location of that distillery cluster of buildings so it was possible for Trustees Drs Arran Johnston [pictured right below] and Gordon Prestoungrange to go in search of it with Gavin Murray Threipland [pictured left] on August 16th. The distillery had closed in the early 1830s after a dispute between the Grant-Sutties, Barons of Prestoungrange, and the then tenants, W & G Aitchison.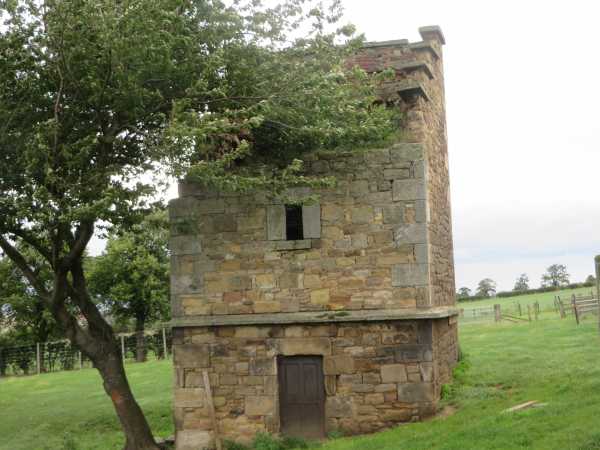 First outcomes of the visit to St Clement's Wells Farm

The original house from 1745 no longer stands but the Doocot does and walls and lines of the old track are visible leading [behind the two figures standing] to where the distillery is thought to have stood. The track is now dissected by the new A1 dual carriageway. Further investigation is clearly suggested and Gavin Murray Threipland's family, which have designated him Official Historian, is considering what sort of memorial might be appropriately located - and where best that might be.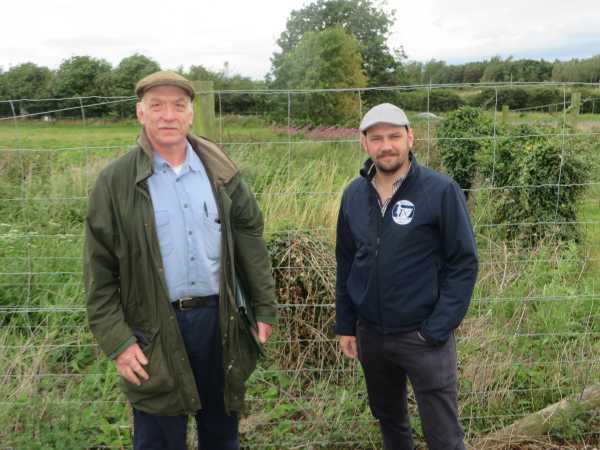 Published Date: August 27th 2019