Dunbar 1650 Commemorations Programme announced: September 13th-15th
USA descendants of Dunbar 1650 to reunite there Friday September 13th

More than 30 descendant family members of Scots taken prisoner at Dunbar by Cromwell in 1650 will be returning to the scene of their ancestors' defeat at the time of this year's re-enactments and encampment. Formal remembrance and musket volley will take place at the Harbour Battery Fort 7.30p.m./ 8.30p.m. on Friday 13th.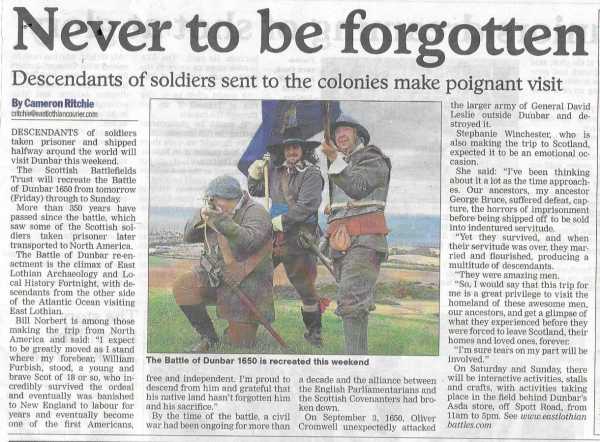 The weekend 13th/ 15th sees the culmination of a three year project by the Scottish Battlefields Trust with HES support that will result in the installation of detailed interpretation boards along a linear battle walk. It goes from the Town House and reaches as far as the formal memorial stone created by the Cromwell Association - with whose support that monument has been cleaned.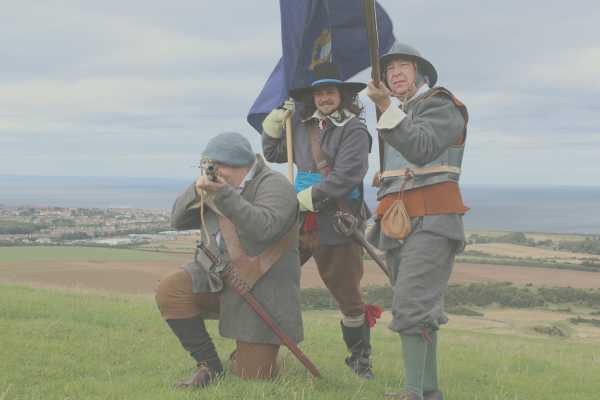 That memorial will be the scene on the actual anniversary date of wreath laying and a guided walk, Tuesday 3rd September. The Walk departs, all welcome, from the Dunbar Town House [EH42 1ER] at 10.30 a.m. and concludes at 12 noon. The Town House is also the scene from June 29th/ September 30th of the Durham University archaeologists' findings, Bodies of Evidence at their cathedral site where so many Scots prisoners died rather than being deported to the American Colonies in 1650/ 1651.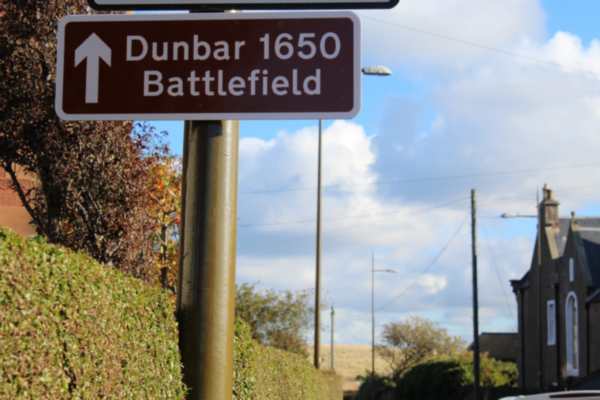 Uniform Parade, Encampment and Re-enactments Saturday and Sunday September 14th/ 15th

The uniformed parade will leave Lauderdale House [near Swimming Pool] at 10.30 a.m. [Saturday only] and by way of the High Street and Spott Road make its way to the encampment and re-enactment site bordering the A1 Spott Junction. Entrance Donations are £6 per adult/ £3 concession, open from 11a.m. till 5p.m. daily; Early Bird 50% discount before noon each day. Refreshments and much else is available.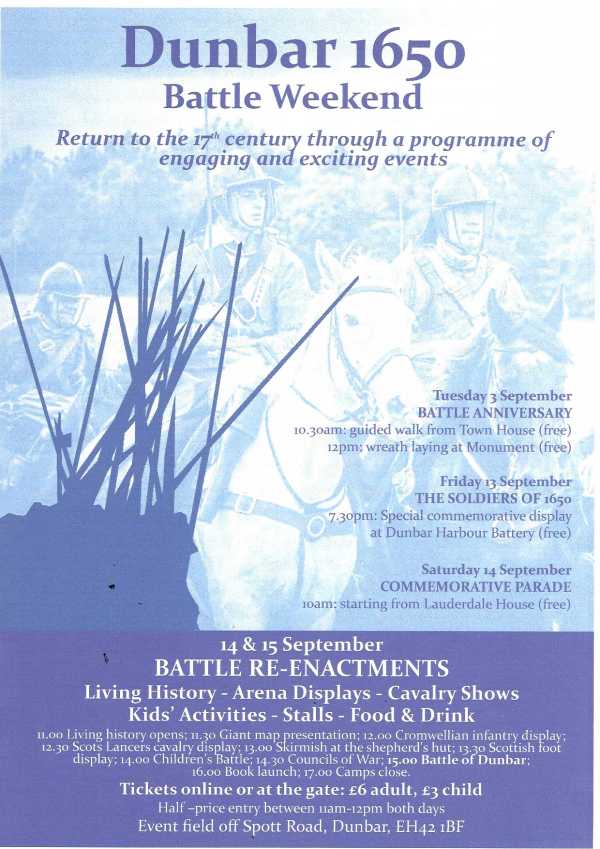 During the day Oliver Cromwell and Scottish General Leslie will lead their troops into combat including those on horseback. The encampments will afford the opportunity to see life as it was in the Civil Wars that had already seen Charles I executed and in its immediate aftermath Charles II declared King of Scots - to Cromwell's great displeasure.

Full programme details are HERE






Published Date: August 28th 2019