Naming a New Town ... it's a big opportunity!



The Battle of Prestonpans [1745] Heritage Trust is convinced that calling the new town Charlestoun can help give its incoming residents a true sense of place - with a fascinating heritage to understand. No, of course it's not proposed as a trendy notion. And the Trustees are fully aware that there are other heritage elements that might also be encompassed including the period as an open cast coal mine - where Neilstoun has been suggested. Let's all the while be aware that this new town is expected to grow even more extensively over the next three decades to outstrip Prestonpans and Cockenzie/ Port Seton themselves in population with well upwards of 6000 homes.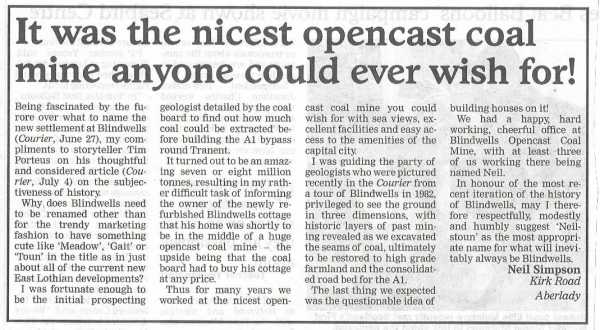 Tim Porteus suggests it might not be such a good idea in his Tale in the East Lothian Courier this week. The Trust disagrees. The Prince is an ever present reminder of what a 25 year old can aspire to and how loyal so many of the Clans were to the Scottish Kings who had been consistently displaced in Great Britain by the will of the English Parliament.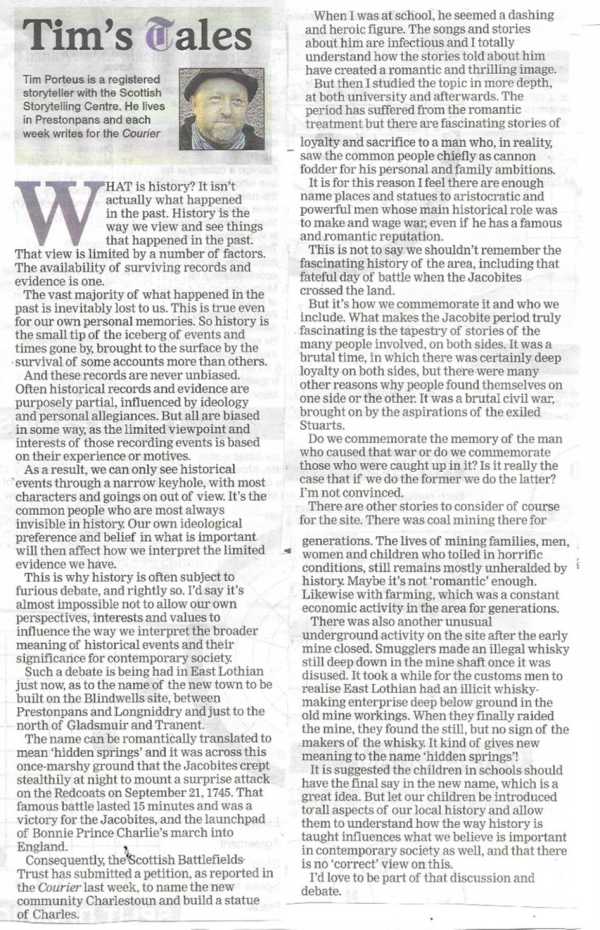 Dougie Mathieson offers his thoughts [July 25th] … and The 1745 Battle Trust responds ..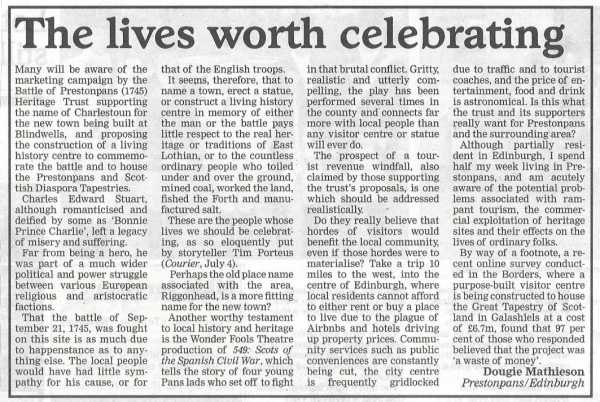 Lives and Tapestries worth celebrating

Dougie Mathieson [Courier July 25th] and Tim Porteus [Courier July 4th] both point out there is a 1000 year heritage to commemorate and celebrate in The Pans, Cockenzie and Port Seton. The Battle of Prestonpans in 1745 is indeed just one moment but it's absolutely unique to us. Many other communities have coal miners, brick makers and fisherfolk, witches, sporting achievers and fine potters and many have already been properly remembered through our prolific published research and murals over the past 20 years, the restored and vibrant Gothenburg and lately in the Miners' Memorial and 548: Scots in the Spanish Civil War. But only our community's battle triumph by 'Bonnie' Prince Charles triggered the English National anthem and via Sir Walter Scott the advent of the new genre of the historical novel. His novel Waverley focussed at Prestonpans even gives its name to Edinburgh's main rail terminus. Not to mention Outlander!

It's an especially significant moment in Scottish history; the Stuarts who had been usurped were Scotland's royal house. There is an extended story to share, lessons to be learnt not least about the benefits of the Union from 1707, kingdom wide religious discrimination and the dreadful human consequences for Clans and aristocrats alike from James VII's exile in 1688 to the death of Henry IX in 1807.

The Battle Trust's hoped for world class Living History Centre will address all these issues and more. And our campaign to encourage the name Charlestoun for the new community being built at Blindwells is seen as a further restatement of that heritage. The new town literally stands on the legendary Riggonhead Defile along which the successful Highlanders, led by and loyal to Prince Charles, marched in silence through the night three abreast. It is the exact place where that occured and from that heritage the new town's incoming residents will be able to draw confidence and pride. And yes, it will attract the forecast 100,000 visitors each year, the majority from our own and neighbouring communities, bringing economic benefits to us all through thoughtfully planned and community shared facilities. They wont come as 'hordes despoiling our community' but with their visits sensibly integrated within it.

And yes, it is also certainly planned to create the deserving permanent home for both the magnificent tapestries created hereabouts that have already toured the globe honouring the name Prestonpans and attracting nigh on 750,000 delighted visitors since 2010. We have at no time encountered a response akin to that unkindest of online 'surveys' Dougie Mathieson cited [July 25th] - that for 97% providing a home in Galashiels for the Great History of Scotland Tapestry was a waste of money. To the contrary, we have been exhorted to redouble our efforts to provide the long overdue sharing of the magnificent heritage we have here in The Pans with thousands upon thousands of interested well wishers.

Published Date: July 30th 2019