Highland Folk Museum.... Alan Brecks' muster Highlanders and Redcoats ....
Highland Folk Museum.. offers annual re-enactments again …

It's greatly appreciated at the Highland Folk Museum that local groups with the Alan Brecks Prestonpans Volunteers, and more, have resolved to provide annual commemorations.

The report below comes from Michelle Henderson in the Press & Journal:

"Hundreds looked on as the smoke and crack of gunpowder rounds and the cries of battle rung through the air. The reenactments were part of a major living history event, celebrating 18th century life in the Highlands.

"More than 800 spectators gathered at the Highland Folk Museum in Newtonmore for the two-day extravaganza.
Audience members were treated to a number of live demonstrations, incorporating "two living history camps", several ambushes and a number of battles, to help portray a turbulent period in the nation's history. Taking centre stage throughout were the men and women of Alan Breck's Volunteer Regiment, who told the story of the Jacobites in vivid fashion.

"Operations Assistant Joann Harper said the event – which has become one of the most popular events on the museum's calendar – had once again been a huge success.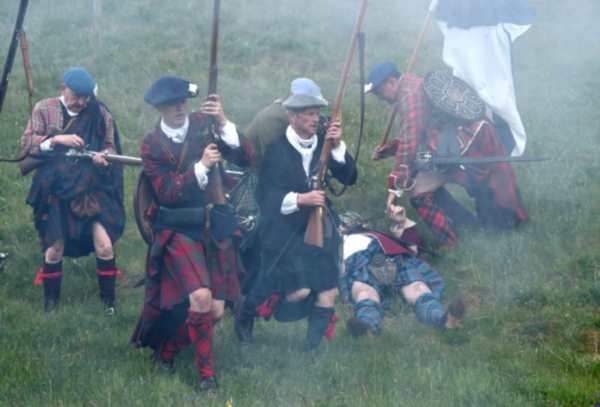 She said: "The event has been running for the past four years now and shows what life was like in the Highlands in the 1700's.

"It's always really popular and people always seem to really enjoy it.

"This is the period when Bonnie Prince Charlie was in the Highlands and there were battles between his supporters and the king's men.

"We had lots of red coats marching up and down in the name of King George and lots of Highlanders shouting their support for the prince.

"They came to blows throughout the weekend!"
Over the course of the two days, visitors enjoyed the spectacle of the two forces clashing repeatedly."

As news spread that of the Prince's arrival, the reenactment depicted a small redcoat patrol finding itself isolated in hostile territory. Dressed in traditional costume, the company also portrayed the movements of the town's local residents and the capabilities of the King George's men in keeping the peace.

Ms Harper said the success of the popular television drama and book series Outlander had helped generate greater interest for such themed events.

She added: "Working with a team of professionals like this Prestonpans volunteer regiment has been just lovely.

"They really do bring people in and hopefully everyone goes away with a greater knowledge of our culture and past."





Published Date: June 25th 2019