Governor of Edinburgh Castle 'Remembers' on the Waggonway
EDINBURGH CASTLEíS GOVERNOR VISITS 1745 MEMORIAL TABLES

Lieutenant General Michael Riddell-Webster, Governor of Edinburgh Castle who served with The Black Watch, has visited the Memorial Tables on the Waggonway in formal remembrance of those who died. Crafted by Gardner Molloy, who met the General, he placed a wreath on the Table that lists all the Regiments of the British Army who fought there on September 21st 1745, including the Black Watch which defended Johnnie Copeís Baggage Train at Cockenzie House. ADC to the Governor, Captain Lawrie Wotherspoon, was in attendance.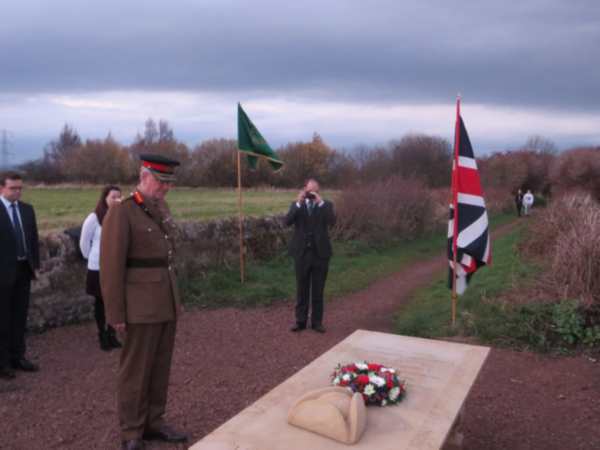 The significance of the Governorís attendance now in Prestonpans lies in the fact that the Castle never surrendered in 1745 although Edinburgh was captured and held for three months by The Prince and his Jacobite Highlanders.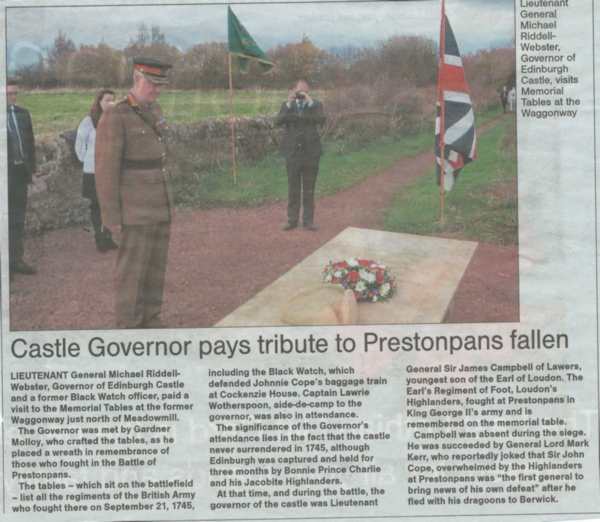 ___________________________________________________________________________

Historical Note:

At that time, and during the battle, the Governor of the Castle was Lieutenant-General Sir James Campbell of Lawers - youngest son of the Earl of Loudon. The Earl's Regiment of Foot, Loudon's Highlanders, fought at Prestonpans in King George II's army, and is remembered on the Memorial Table.

Campbell was absent during the siege. On the outbreak of the Rising the Hanoverians in London sent General Joshua Guest to take command of the Garrison in Edinburgh Castle. One view is that after the Battle of Prestonpans, Guest was deterred from surrendering the Castle merely by the resolute General George Preston, Campbell's Deputy Governor who toured guards in his wheelchair every 2 hours; yet others say Guest deliberately spread a rumour that he was at the point of surrendering the castle for lack of provisions, simply to detain the Highlanders in a siege of the castle.

Campbell was succeeded by General Lord Mark Kerr, who had been Governor of Berwick on Tweed in September 1745, and who reportedly joked that Sir John Cope, overwhelmed by The Prince's Highlanders at the Battle of Prestonpans was "the first General to bring news of his own defeat" after he fled with his dragoons to Berwick on Tweed. Kerr was officially appointed Governor when King George's forces under General Handasyde retook the city on 14 November after The Prince had marched south to invade England via Carlisle. Kerr was the fourth son of the Marquess of Lothian, sometime Baron of Prestoungrange.

N.B. That report, widely cartooned at the time, reappears as a panel in The Prestonpans Tapestry - and was the genesis of that tapestry's design by Andrew Crummy as a 104 metre cartoon strip.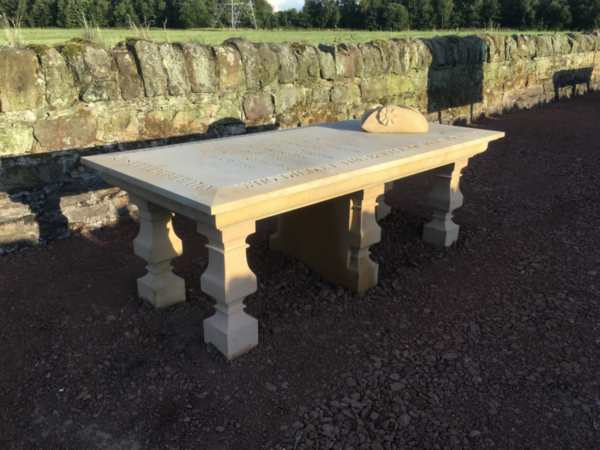 Published Date: November 23rd 2018