Just a Week Away .. then youthful Prince Charles is back in town!
Just a week to go until the 1745 Encampment & Re-enactment Weekend in Prestonpans …

By now most households in Prestonpans/ Port Seton & Cockenzie will have received copies of the programme for next weekend's Prestonpans 1745 Encampment and Re-enactments. September 15th & 16th 11am/ 5pm

Entrance has Early Bird discount @ £3/ £1.50 from 11am/ 12noon both days for all visitors and, if you bring a National Lottery Ticket valid for September 15th Draws, the discount is your's all day on September 15th. After those concessions Entrance is £6/ £3.

All very good value of course and ample scope at the encampment, events and of course the re-enactment to learn and enjoy the day with all the family.

The events begin with The Parade from Meadowmill to Greenhills on September 15th 10am / 10.45am. Brief street closure as it goes along.

The Parade passes the Miners' Memorial and streets named after the Clans that came out with The Prince in 1745 and their Hanoverian opponents as it moves north up Schaw Road and Appin Drive to Greenhills. At Greenhills our Lord Lieutenant and East Lothian's Provost will welcome Clan Chiefs and Representers and All will Pause to Remember and Commemorate those who fought and died on September 21st 1745.

East Lothian Courier supporting the Weekend and many other sponsors …

Readers of The Courier will have already seen on Thursday 6th September a double page spread with the Weekend's Story and the schedules. There's a further half page reminder next Thursday.

The Prestonpans Tapestry has already begun its exhibition at Cockenzie House and the full 2500 x 2500 Paper Armies Exhibition is open at The Gothenburg.

We're still optimistic the British Army will also be on parade on the 15th but in the best traditions of Johnnie Cope who knows?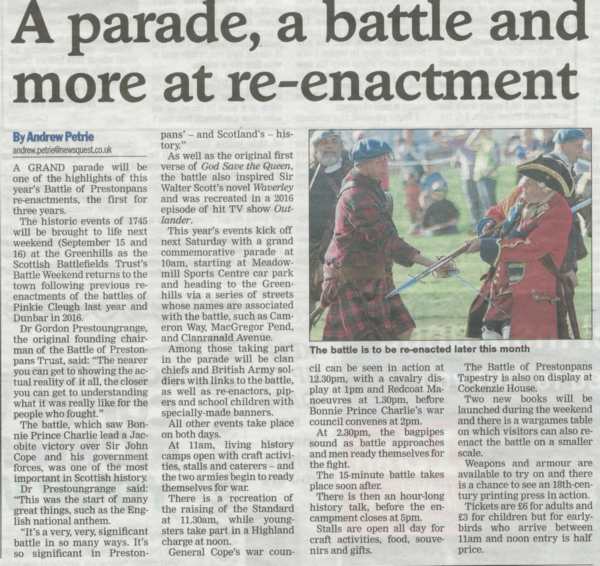 Fingers crossed for fine weather although it all goes ahead regardless!


Published Date: September 7th 2018