Offshore Windfarm SubStation Government Reporter to hold Public Hearings from October 2nd
This 'Good News' comes in a democratic package …..

It is very good to hear that the Scottish Government's Reporter, Allison Courd, will be holding Public Hearings from Tuesday October 2nd [venue still unknown] to listen to the views of [i] ELC itself as current landowner, reportedly not keen on the waterfront location and sponsor of the MasterPlan; [ii] Prestonpans Community Council which is pledged to campaign for Port of Prestonpans; and [iii] Cockenzie & Port Seton Community Council which is firmly pledged to see the Master Plan carried forward and to protect the decade old Community Orchard.

The Reporter's role is really quite straightforward! She simply has to determine whether to endorse Inchcape's present application to locate directly on the Forth as the old Power Station did, or en passant to encourage Inchcape to explore locations to the south of the main road connecting The Pans with Cockenzie. That alternative needs to stay clear of the orchard, the battle site and the waggonway. There's ample brownfield land available.

We all accept the SubStation needs to be in this vicinity because of the economics of connectivities to the extant National Grid. However, since all the signs are that the proposed SubStation is a pretty hefty 'Shed' with virtually no employment bonus or aesthetic appeal it needs to be inshore rather than on the waterfront. That shoreline offers a highly desirable and readily achievable opportunity for a BoardWalk from Greenhills to Cockenzie's renaissant harbour.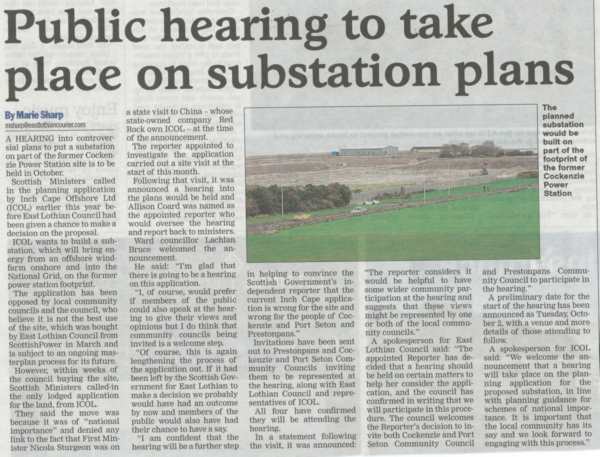 Battle Trust and Waggonway Heritage Groups not yet invited to present ….

The Reporter is proposing to speak with and listen to our 'democratic' representatives, which is certainly as it should be. And all of them have been party to the 3 year sequence that gave us the MasterPlan just last year. The two Heritage Groups have not [yet] been invited since thus far no suggestions have been made that impinge on their charitable objectives. Provided it remains thus, and we both have thus far received unwavering support from the two Community Councils and ELC's Economic Development Team, all seems well.

There's just one suggestion to be made of course; that The Reporter should also meet with and listen to the wise words of the team that created the MasterPlan. That was the outcome of a truly comprehensive survey of the residents and businesses of our communities. Its Concluding Zonal Suggestions, which ELC has steadfastly declined to adopt notwithstanding the investment thereon of £150,000, are surely the Overt Agenda? Certainly at the Battle Trust we greatly look forward to carrying forward our suggested role therein.





Published Date: August 25th 2018