Colonel Gardiner's Iconic Thorntree - No Longer Stumped?
Thorn Tree Remains Traced in Edinburgh

It is with delight that the Trustees of the Battle of Prestonpans [1745] Heritage Trust can announce that the quest for the iconic Thorntree Stump, the remains of the fabled tree beneath the boughs of which Colonel Gardiner was mortally wounded on September 21st 1745, has been successfully completed.

Ever since the Earl of Wemyss, on whose land it stood in the 1920s, gave consent on the advice of the East Lothian Antiquarian and Natural History Society for it to be cut down and saved, it has been in the care of Edinburgh's 'Military and Naval Museum'. And they have currently got this most tangible reminder of the Battle's greatest local hero safely stowed in their temperature and humidity controlled depositry in Leith.

It is grand to see the sense of humour which accompanies the storage - or at least the recent 'opportunity to view'. It stands majestically next to another trunk thereby allowing our humble photograpah to reveal its dimensions. [Ed. Just my guesstimate but seemingly it has a diameter of 21" and height of some 36/ 39".] And it's in great condition too.

Just click on the Stump to enlarge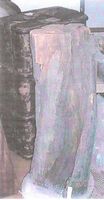 "What Next?".... well now ...

Naturally we are hopeful that it can make a temporary ceremonial return to Prestonpans later this year as Colonel Gardiner is honoured and his obelisk restored prior to September 21st 2007. Negotiations as to how this might properly be accomplished have begun, as they say.

But as with the Prestoungrange Ceiling of 1581, return either physically or virtually it certainly must and shall. Our hopes are initially for a temporary loan and eventually for a permanent home here in Prestonpans.
Published Date: February 11th 2007