Cuthill Park Renaissance Begins ....
A Much Happier New Year from Cuthill Park!

Everyone living in West Pans will know that Cuthill Park has been hors de combat for more than a few years too long. Local 'historians' relate that this recreational gift to the town became a practice course for aspiring young golfers who vied to hit the ball over the Bowling Club and into an upstairs window of a passing omnibus. It was never recorded how many scored a window in one but it seems it was one too many and their efforts led to the Cuthill fairway being turned into one big rough.

The Park remained popular for dog walkers but otherwise it, and its ruined play area, remained unused except for fly tipping.

Lottery Funding for The Witch Re-enactment Mural

In 2005 the Lottery gave Sterling 14,500 to the Prestoungrange Arts Festival for a number of Witch Remembrance artworks which included a mural by Tom Ewing painted on the south facing wall of the Bowling Club that was used for the Global Conference in August 2006, and is now regularly in action.

click on all photographs to enlarge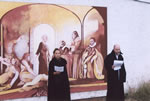 The global visitors from the US, Canada and Australia were surprised to see what a state the Park was in and wondered what could be done about it. The Community Council has done its best to get some action but nothing is yet scheduled as 'possible' - either politically or budgetarily. So frankly it seemed to be the ideal opportunity to set community spirit to work and where better to turn than to the teams that regularly pick litter from The Pans beaches. Under Jan Barker's leadership those self-same teams [with their only reward knowing a job was well done plus a complimentary Gothenburger for tea at The Goth] set to work with a will on January 6th 2007. The sun shone, Tom Ewing was out with his paint brush again, and a mountain of rubbish arose. Just look at the pictures below to see what was accomplished.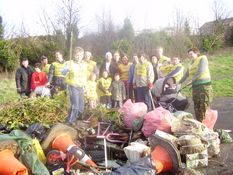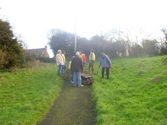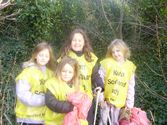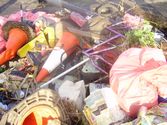 Jan Barker reports how the Rubbish & Litter Sweep Went
[and links to more photos]

"Keep Scotland tidy provided the hi-vis tabards and refuse sacks. East Lothian Council loaned us litter pickers and gloves and supplied more refuse sacks. Latterly they carted the rubbish away.

"When you arrive at Cuthill Park you could be forgiven for thinking it's not in too bad shape really, just overgrown and lacking in play equipment. Actually the fact it has been neglected for so long has made it the perfect dumping ground because even large objects are well hidden. And that longtime dumping made the clear up much more difficult, not just in terms of the sheer volume of objects, but the fact that lots of it was tangled in jaggy thorns or, as in the case of the spring mattress, embedded in long grass.

"While some of the teams were focussing on the large bulky items, others were painstakingly collecting the tiny shards of glass that littered the tarmac by the rusting carcase of the play equipment. And Tom Ewing was out and about painting throughout with more than a little help from the youngsters. [There was an unpleasant surprise for Lidl's management too as we found 12,000 undelivered fliers as pictured below.]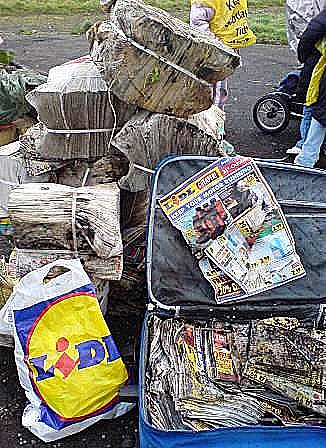 "It was hard to prise away some of the volunteers who just wanted to get 'that last pile of bricks' but there came a point when you have to call a halt. Cuthill Park simply can't be comprehensively cleared/tidied in one weekend but we've certainly made good progress. There's a lot of enthusiasm for future projects and, as you can imagine, lots of opinions on how the area c/should be used.

"And the teams, more like an army actually, of volunteers certainly appreciated the burgers after the labours of the day. The staff at The Goth weren't exactly expecting 20+ of us but did incredibly well to rustle up the promised Gothenburgers very quickly."

What Next One Might Ask? Indeed ....

Picking up litter and rubbish always leads to lots of talk and lots of bright ideas! The ruined play area has already become a 'contemporary' colourful steel sculpture and a hopscotch layout is envisaged. But there are grander thoughts too. With the Community Council cheering everyone on, let's officially ask Stuart Pryde, our Principal Amenities Officer in The Pans, to keep the grass cut with our pledge not to play golf this time around. Let's install doggie-bins [for the use of owners] and of course let's reinstate the children's play area at once if not sooner. And finally, for the Arts Festival, let's make Cuthill Park the venue for an Annual Murals Fest [Australian style as from Tasmania] and the home of the Annual Cow Painting Competition. And much more besides.

Published Date: January 8th 2007