Landscaping is vital for our foreshore as Power Station site evolves
How right Scottish Natural Heritage is ... please may their advice be ever with us ...

It is most encouraging that the first major Report tabled with ELC/ The Scottish Government's Reporter concerning Inchcape's SubStation location addresses the 'landscaping' of the former site of Prestonlinks Colliery which became the site in the 1960s of Cockenzie Power Station.

We can 'all' remember that majestic power station with its two commanding chimneys. We can all still enjoy the only element still standing at that site too - Andrew Crummy's mural. All the murals on the Prestonpans Murals Trail have been well researched historically but this particular masterpiece by Andrew is an exemplar.

At the time we issued a wee leaflet with the background tale which included rare pictures of the Prestonlinks Colliery site from the archive of Mr. Bert Renton. An ordinary search of the internet reveals very little but for the reader here a
simple CLICK @ HERE will take you to those Andrew traced.

The entirety of the post-Power Station Master Plan - all 4 Zones - needs integrated landscaping

It's not just an issue for the foreshore on the Forth. It applies in all the areas scheduled for industrial/ commercial use including the InchCape SubStation. All of it should be aesthetically pleasing to the eye of those who live in the surrounding communities as to all who work within it or travel along the coastal route.

It also very much applies to the battle site which has the enormous potential to act as a 'green' space, returned to agriculture as it was in 1745 with the battle itself and the 1722 Waggonway which traverses the area interpreted for all to learn more of our history and for recreation generally.

Great strides have already been made by the Waggonway Heritage Group and the 1745 Battle Trust which can readily be built on.

We have the opportunity to create a spectacular mixed development along the Forth, with a boardwalk from Cockenzie to Prestonpans embracing the John Muir Trail, and backed to the south by the green fields of the battle site.

But it needs to be comprehensive plan. Ad hoc interventions by the Scottish Government for the InchCape SubStation are potentially counterproductive. Their required 'no-Jobs-Shed' as it has been aptly dubbed is scarcely an ideal foreshore structure. None of us deny the logic of its sensible location to take advantage of the extant National Grid connectivity, but finding a suitable location well shrouded with trees and enriched with thoughtful architectural design must be the best option .... please, not a Shed!

The landscapes thereabouts offered historically firstly by Prestonlinks Colliery and then by Cockenzie Power Station did not make best use of the opportunity presented by the Forth. We can and must do better and ad hoc decisions are surely not the best way to go.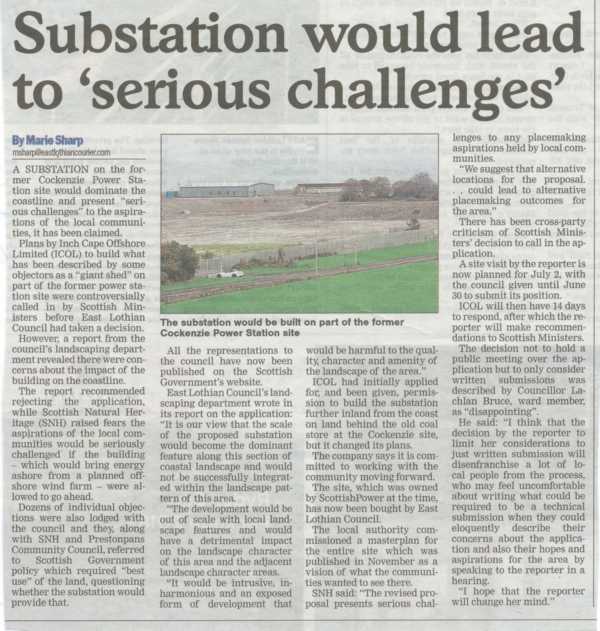 Published Date: June 13th 2018