Why didn't The Prince take Counsel from his Clan Chiefs at The Sheep Heid on September 19th 1745?
A St. Patrick's Day riddle? No, a simple query ....

The Sheep Heid is a more spacious Inn than the property on sale this week in Duddingston [details below], reputedly an Inn at the time The Prince took advices from the Clan Chiefs and resolved to do battle with Johnnie Cope - then en route from Haddington to camp at Prestonpans.

The advertisement suggests an answer which can readily be dismissed! Line 4 below suggests 'it belonged to Prince Charles Edward Stuart'. Requisitioned more likely although The Prince was well respected for paying his way from taxes collected throughout his campaign. He's pictured at The Cottage below, but no sign of Clan Chiefs!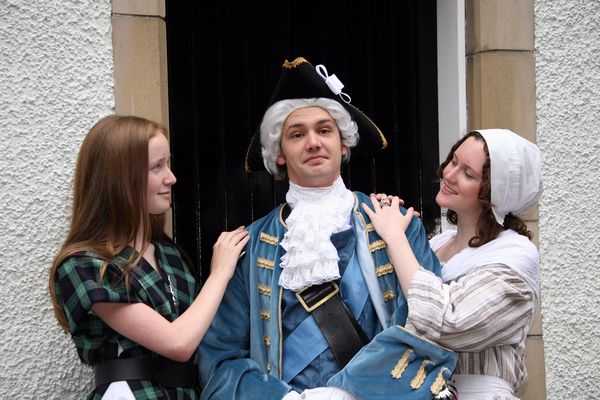 As a throwaway in the penultimate paragraph, Knight Frank also seemingly stretch the meaning of 'frequented' in reference to the pub visiting proclivities of HM The Queen to The Sheep Heid. If it was indeed the case that she and Phillip were there as frequenters/ regulars when lodged at their Palace of Holyrood House in 2016 perhaps Knight is being a tad too frank; or is it Isabelle Fraser?

Whatever the myth and the hyperbole displayed below to capture the imagination at £400,000+, we as ever effortlessly aspire to be tedious historical pedants ['authenticity' is our ambition] at the 1745 Battle Trust - no mean challenge in the face of the extreme tv success of the fictitious Jacobite tale screened as Outlander with dutiful magnification by the National Museum of Scotland!

The 'authentic' point to note is that on September 21st 1745 The Prince won a stunning Victory which triggered afeared singing in London of a new anthem - God Save Great George Our King - with its later verse [seldom sung nowadays in public/ could it make a comeback?] enjoining the English to Crush the Rebellious Scots. With the Scots taking the Calcutta Cup this year it must be said there's clearly work still to be done ....

... but there's yet another question. Who pronounced the Revolution in 1688 that sent King James VII and II into exile to be Glorious? William of Orange usurped the thrones of England, Scotland and Ireland and invaded these islands with Dutch troops .... all at the invitation of the English Parliament!





The 2018 re-enactments of the Battle of Prestonpans take place on September 15th & 16th @ Greenhills, close by where the Power Station was demolished. 11am/ 5pm each day.

Entrance/ Donation which covers whole weekend is set for all Early Birds at £3/ £1.50 only between 11am and 12 noon .... but it's £6/ £3 thereafter. So advice is to come early and enjoy the encampment, food and drink available.


Published Date: March 17th 2018