There'll be neither toxins nor cybermen at The Prestoungrange Gothenburg; this September it's Paper Soldiers
Last summer the re-enactors and the Prestonpans Tapestry were in the Scottish Parliament ... this year there's a further surprise

The Battle of Prestonpans involved some 2500 soldiers on each side, Highlanders and British Army. The redcoats had plenty of dragoons, cannons and mortars but they could not withstand the legendary Highlanders' Charge.

To give understanding to the size of each army today is truly difficult since gathering 5000 re-enactors is nigh on impossible. Nothing daunted, a representation of both sides with paper soldiers is in hand and will be completed by September.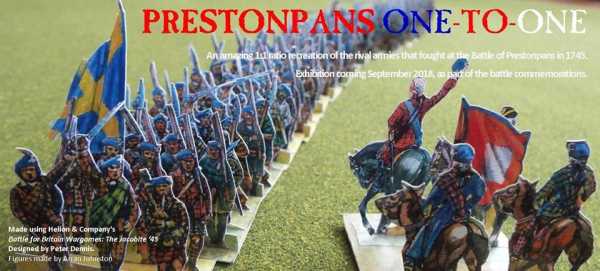 It will cover the floor of the Thomas Nelson Suite upstairs at The Prestoungrange Gothenburg from September 8th for two weeks. Simultaneously, along at Cockenzie House the story will be told in the embroidered Tapestry.

And as if that is not sufficient, September 15th/ 16th will see comprehensive re-enactments at Greenhills with the encampment open from 11.00am/ 5pm each day. There will be a full day programme for the family and plenty of provision for food and drink.

On September 15th the re-enactment will be preceded from 10.00/ 11.00 am by a Procession & Parade along the streets of the Pans from Meadowmill's Battle Bing to Greenhills with the Clans and the British Army well represented. The eponymous streets of Atholl, Cameron, MacGregor, MacLachlan, Robertson, Macdonalds of Clanranald, Glencoe & Keppoch, MacDonell of Glengary and Stewarts of Appin as well as Gardiner will be passed along the route.

Get those re-enactment dates in your diary please ... September 15th & 16th 11.00am/ 5pm. There's Early Bird Admission/Donation at £3/ £1.50 from 11am/ 12 noon on both days; after that its £6/ £3. Watch out for the marquee going up at Greenhills ...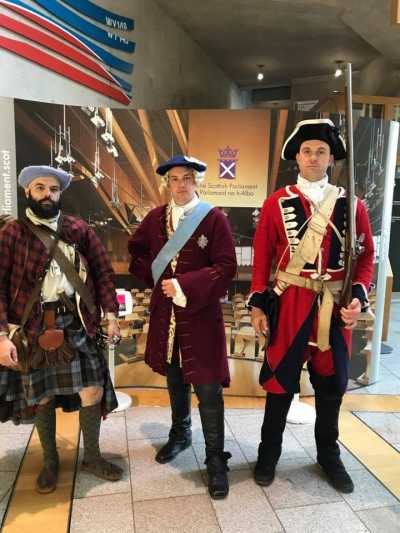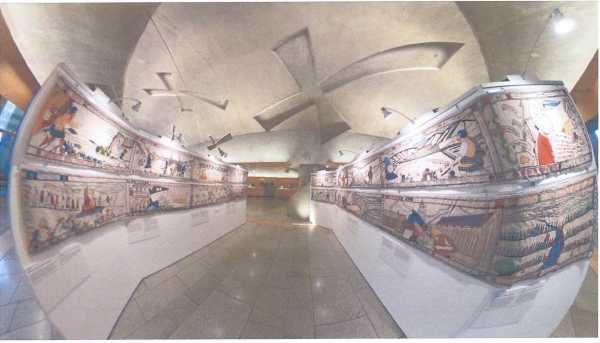 Not just soldiers, General Sir John Cope had an artillery train:

The British Army did not lack for artillery at Prestonpans, as they had a train of 6 light cannon (1.5 pounders) and 6 mortars [back row in picture below]. These should have been effective weapons in weakening the Highland Charge before it made contact. Cope was however short of experienced crews to man them. In fact he appears to have had the use of merely 6 sailors from HMS Fox*, 3 Invalids, one elderly veteran, and a maths teacher from Edinburgh.





They were commanded by Master-Gunner Eaglesfield Griffiths, and by Lt-Colonel Whitefoord of the Marines who had volunteered his services to the army whilst on leave in Scotland. Trained artillerymen were repeatedly requested by the general, but they apparently got lost after leaving Edinburgh and failed to arrive in time for the battle! Without trained crews, Cope was obliged to keep all his guns together in a battery rather than distributing them in support of his infantry. In the event, most of the crews fled and the two officers were left unable to reload them after firing. Pieces of canister shot have since been found on the battlefield, where they were blasted towards the Camerons.

Seeing them together like this, it becomes obvious just how hopelessly under-manned the artillery train was.

__________________________________________________________________
* HMS Fox sank in a storm off the coast of Dunbar on November 14th 1745; some of the wreck has been recovered but there are optimistic plans for marine archaeology in 2019, Scotland's Year of The Ocean.

Details are LINKED DIRECTLY HERE



Published Date: March 16th 2018