Somerset's Road to Pinkie in 1547 ... and in 2017!
Pinkie Cleugh Re-enactment Prequels ... September 2nd /10th

The Duke of Somerset had to march from England and he came across the Tweed at Berwick. Not surprisingly, this year's East Lothian County Battle tale begins in The Borders, and joins their VisitScotland supported HERITAGE FESTIVAL - Lighting the Borders ... as a Borders' Signature Event.

Saturday 2 September 2017 from 1pm onwards

ATTACK ON HUME CASTLE ...
Hume Castle, Hume
Living history camp, drill training, skirmishes and a representation of the castleís fortunes in 1547-8, including Lady Humeís surrender. Archaeological walks and tours, pop-up storytelling, Northumbria piper, hog roast, medieval food, and the Smailholm Singers! In good weather, over 500 attended the occasion ....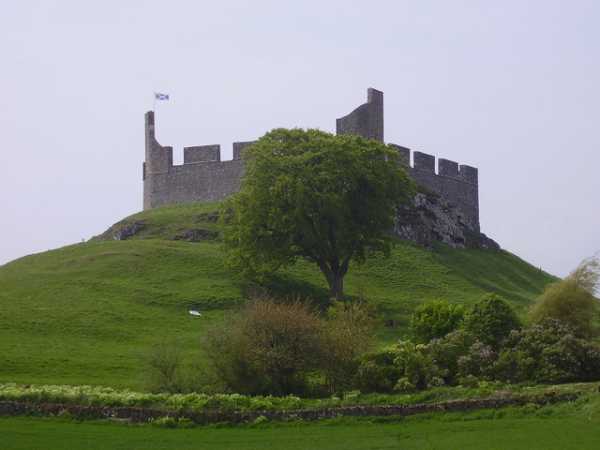 Sunday 3 September 2017 from 12pm/noon onwards

ASSAULT ON EYEMOUTH FORT ...
Eyemouth Fort, Eyemouth
We begin in Eyemouth centre with The Duke of Somersetís Proclamation to the People of Scotland, followed by a procession to the Fort to view a series of skirmishes over the original Tudor defences. An exhibition and video presentation will be housed in the adjoining caravan park and VR at Eyemouth Museum. There will be 3 calls to arms throughout the afternoon.

Youngsters were also in line for their own briefing! Here she is with pupils from Eyemouth Primary School.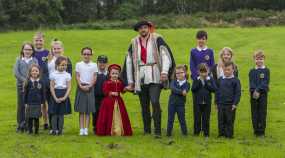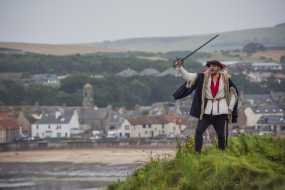 Thursday 7 September - Sunday 10 September 2017

THE 44 mile MARCH TO PINKIE .... daily.
Journey is from Eyemouth to Pinkie Battlefield. Two members of the Lothian Levy Re-enactment Society will follow the line of the English invasion of 1547, from Eyemouth Fort to the bloody battlefield at Pinkie Cleugh. Be sure to give them a wave or stop/ walk along with them for a chat when you see them!

... even Mary Queen of The Scots herself arrived to see the danger that threatens!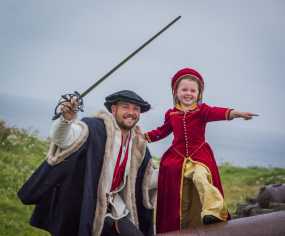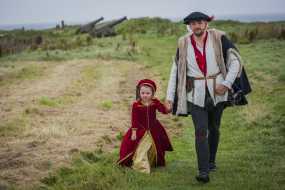 Sunday 10 September 2017

PINKIE CLEUGH COMMEMORATIVE SERVICE
Gather at The Memorial Stone, off Salters Road, Wallyford @ 1pm for The Old Musselburgh Club's annual commemorative service in memory of the many thousands who fell at the Battle of Pinkie Cleugh in 1547.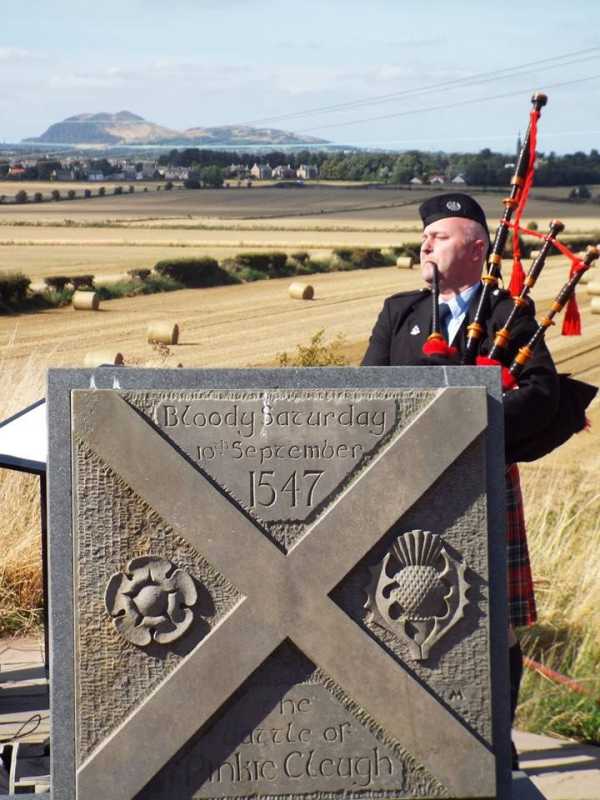 ****RE-ENACTMENTS AT NEWHAILES HOUSE, MUSSELBURGH SATURDAY/ SUNDAY SEPTEMBER 15th & 16th
FROM 11 AM EACH DAY TILL 5 PM

How to get there and more details of the encampment and much more are available LINKED HERE

Re-enactment Tickets @ £6/ £3 are now on sale DIRECTLY HERE


Published Date: September 8th 2017