Pinkie Cleugh Re-enactment Tickets September 16 & 17th Go on Sale ... here ....
Earl of Arran is raising the grandest Scottish Army ever to resist the invading Duke of Somerset, Lord Protector of England ....

... who wants his nephew King Edward VI to marry Mary Queen of The Scots. It's 1547 and not the first time the English have sought this marriage. Five years earlier, as Earl of Hertford whilst King Henry VIII was still alive, the same man had brought havoc to The Lowlands to no avail.

The battle will be re-enacted for the first time ever at Newhailes House on both Saturday 16th & Sunday 17th September.

How to get there and more details are available LINKED HERE

Tickets are now on sale DIRECTLY HERE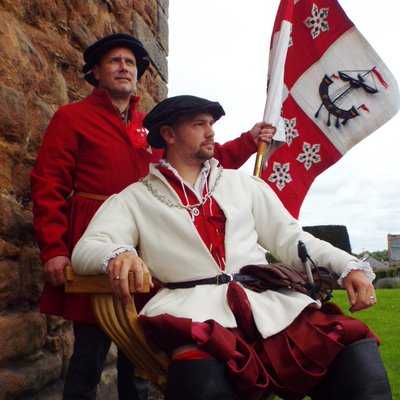 Re-ENACTMENT EVENT DESCRIPTION

Step back in time to the dramatic year of 1547, when the mighty armies of Scotland and England gave battle to determine: who should marry the infant Queen of The Scots?

With fascinating living history encampments, hands-on activities for all the family, and spectacular battle re-creations, this exceptional historical event is not to be missed. See the drama and excitement as the Battle of Pinkie Cleugh comes to life before your eyes, and discover more about this fascinating period of our history.

EVENT TIMETABLE (both Saturday & Sunday)

11:00 Opening Ceremony @ Newhailes House
11:30 Queen Mary is present in the Scottish Camp during a Council of State
12:30 THE FIERY CROSS - the English army enters East Lothian
13:30 Fashionable Times - presentation on the dress of the times
14:00 Contest of Champions
15:00 THE BATTLE OF PINKIE - main re-enactment
16:00 The Duke of Somerset's victory Council
16:30 Scottish Council of State
17:00 Event closes

Ongoing activities throughout the day include stalls, children's craft activities, living history encampments, birds of prey and have-a-go archery!

A more detailed Timetable can be downloaded CLICK HERE

P.S. The present Duke of Somerset will revisit the scene of his ancestor's triumph over the weekend. He visited three years ago. He is a High Patron of the Scottish Battlefields Trust as is today's Earl of Arran [aka Duke of Hamilton] whose ancestor was defeated.

TICKETS AVAILABLE

£6 adult, £3 child available at the gate or online @ above link

Parking £3 per vehicle is additional and payable to National Trust for Scotland which is kindly making Newhailes House available for the occasion.



Published Date: September 13th 2017