BIG DIG at Cockenzie Harbour: September 1st/ 11th .. be in it!
Join one of the most exciting archaeological events of the year in town!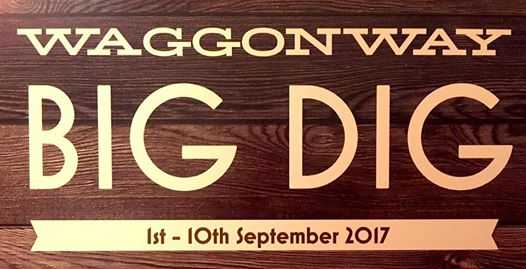 Led by the 1722 Waggonway Heritage Group, come and try your hand at archaeology as we uncover the remains of part of the Cadell's 1815 iron railway at Cockenzie Harbour. There are loads of different tasks to help with, from digging to cleaning finds and with 'living history' salt making at Cockenzie House & Gardens, storytelling from Tim Porteus and much, much more, there's something for all the family.

[Optimists hope there may be also some of the 1722 wooden rail track to be found too, but they're certainly optimists!]

We're also encouraging members of the local community to dig in their own gardens for clues of the coal, salt, glass and fishing industries which were the backbone of Cockenzie and Port Seton for centuries – a handy info pack will be available to pick up from our Big Dig HQ at Cockenzie House & Gardens.

This is a FREE EVENT, but we encourage donations to the 1722 Waggonway Heritage Group. All donations go towards the delivery of our local heritage projects, including the forthcoming creation of a Waggonway & Cockenzie House Heritage Museum / Exhibition.

FOR FULL DETAILS VISIT THE WEBSITE
HERE

We are delighted to be supported by: East Lothian Council & ELC Archaeology Service, Wessex Archaeology, Cockenzie House & Gardens, Friends of CH&G, Cockenzie & Port Seton Community Council, Battle of Prestonpans [1745] Heritage Trust.

Published Date: June 1st 2017