Calling All Prestongrange Pit Miners, their families and their Bath House Memories!
Keen to trace Prestongrange Miners who used the Bath House after their working day!

For the final 12 years that Prestongrange was mined for coal, the new NCB built Bath House was a great part of the facilities. They were officially opened on September 12th 1952 along with a new Canteen.

As many will by now know, the 1745 Battle Trust has plans to restore the remaining parts of the Baths as it finds a permanent home there for the Pans' two great tapestries and battle interpretation generally. GO HERE

So, to make a good job of the Bath House history, we are looking for any/ all miners there who remember their younger life as it was in 1952/ 1965!

The press covered it's Opening by long serving 66 year old miner William Cunningham, 1 Polwarth Garden Terrace in this report in the Haddingtonshire Courier on September 19th 1952 i.e. 65 years ago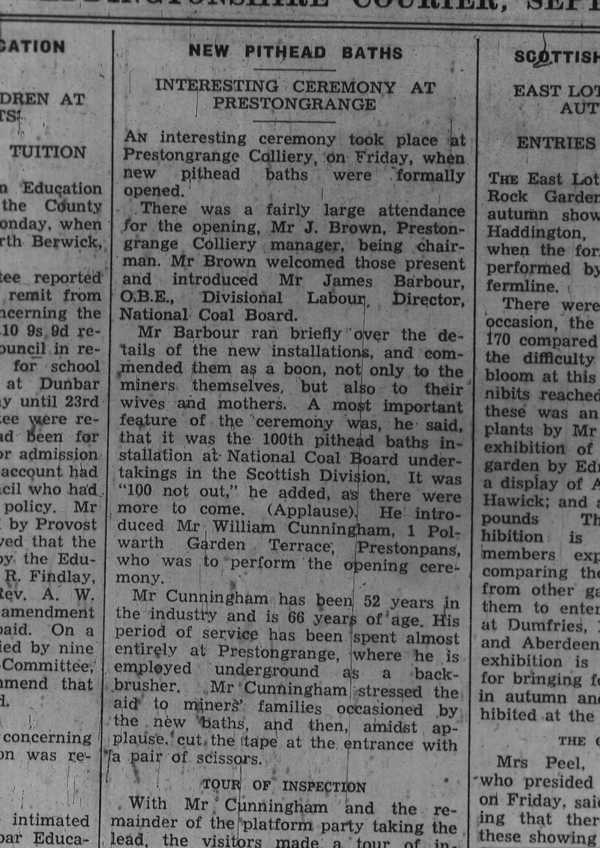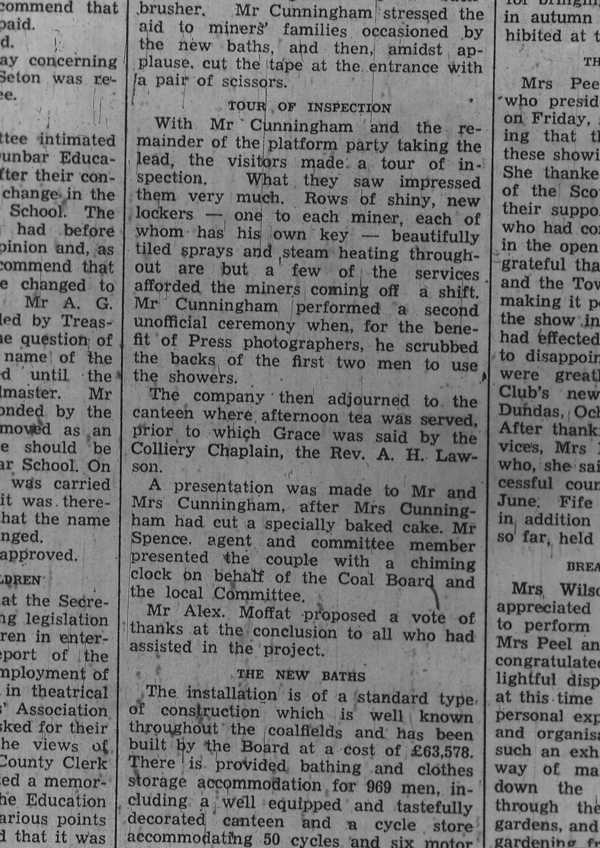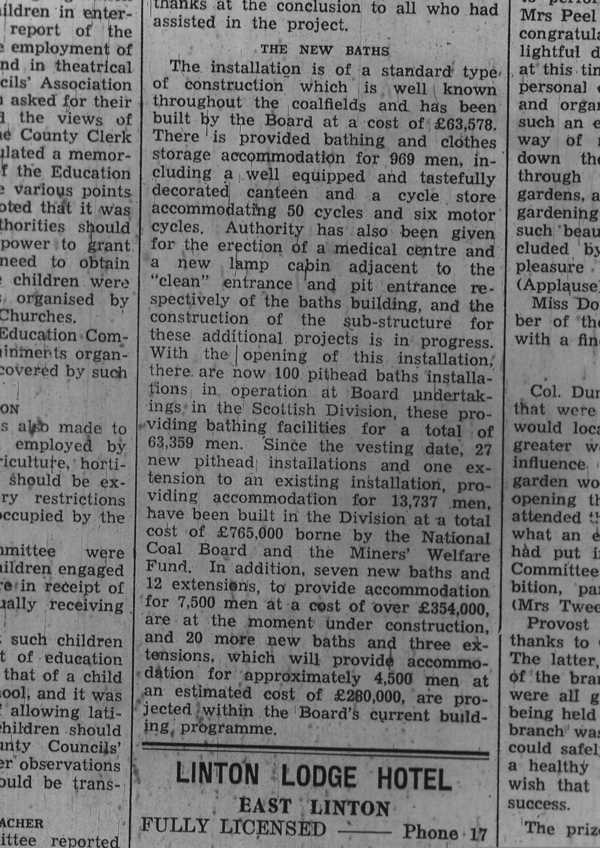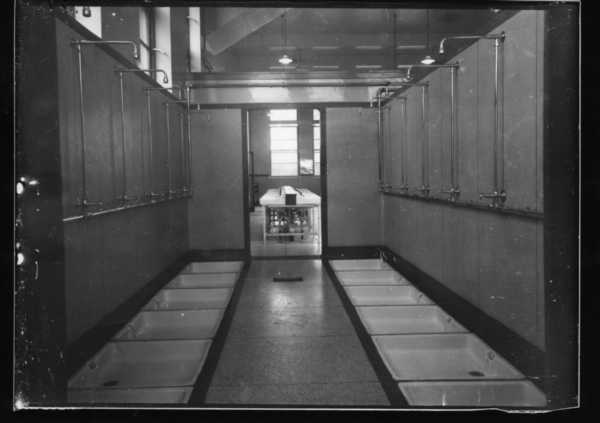 The plan is to have a get together at The Gothenburg on March 2nd at 5pm so if you were one of the mining veterans from then, please either make contact face to face with details at The Gothenburg [open daily except Mondays], Ph. 01875 819922 or email prestoungrange@aol.com





Here's hoping we'll find a goodly few of you able to come along ... on March 2nd from 5pm. At least the first pint of our born again 'Real' Fowler's Ales on the house for you all!

THREE QUERIES then ....

[i] can we trace the two miners who had their backs scrubbed by William Cunningham on September 12th 1952 and [ii] have the Cunningham family still got that gift of a chiming clock he was presented with on that day and [iii] is a descendant of Alex Moffat, presumably a fellow miner who proposed the Vote of Thanks, staying in The Pans today?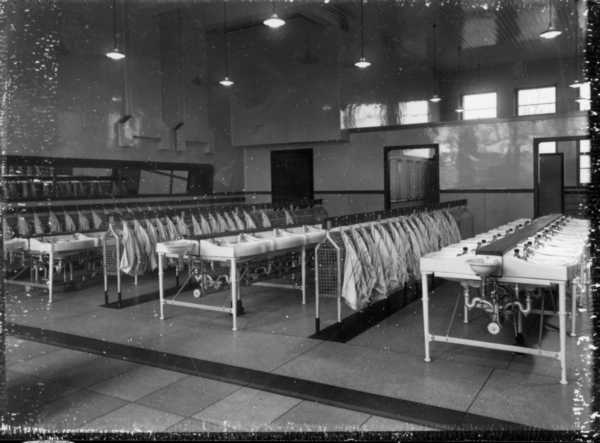 Ed: Million thanks to Phillipa Cox @ ELC Archives for the two images above and the press cutting - all within 24hours! And to East Lothian Courier for its Memory Lane Feature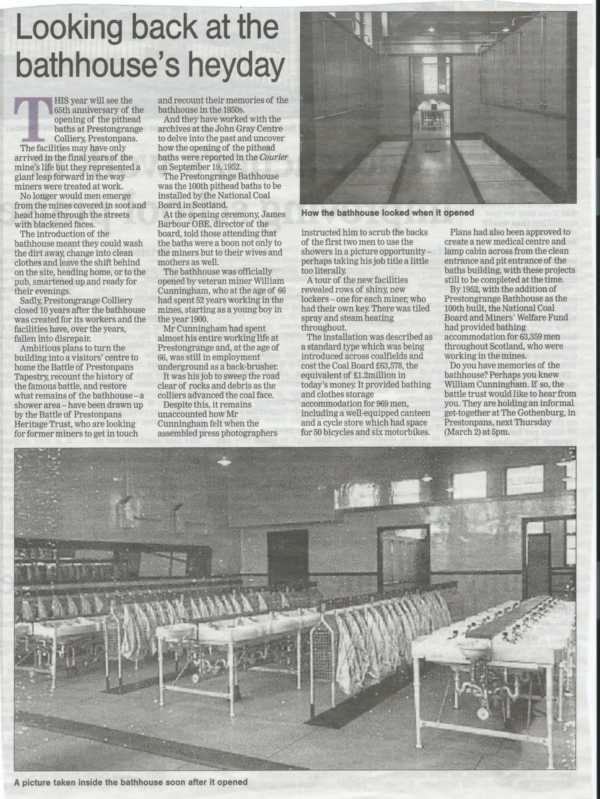 Published Date: February 27th 2017