Battlefield Signage showing the way round @ Prestonpans
Pointing the Way around Prestonpans 1745 Battle Site

The Battle Trust was delighted that in co-operation with East Lothian Council, and with financial support from Bord na Gaidhlig and Viridor, walkers' signage could be erected last week around much of the battle site. An example is seen below ... in Gaelic as well as English so that all Highlanders will feel at home!

Our bilingual signage is and remains the first and only such in the Lowlands and began in 2014 with key street signs directing towards the Bing Viewpoint and for the Scottish Diaspora Tapestry exhibition.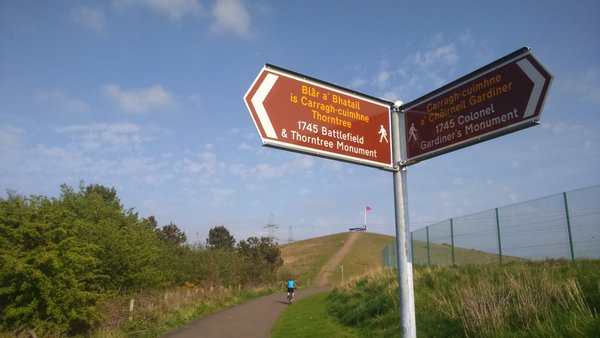 A new APP will be ready shortly too for those who walk the trail

The grants received have also been sufficient to create a Battlefield Walk APP* that will be ready before this year's September commemorations in The Pans for free download. It will be more than that ... it will carry the entire Battle of Prestonpans Tapestry and a Guide to the Tranent/ Cockenzie Waggonway. Something to look forward to that will make the walking and the tapestry viewing that much more enjoyable.
_________________________________________________________________
[*Ed: A free download APP is already available for the Scottish Diaspora Tapestry and is in use in Australia/ New Zealand/ Canada/ US during the present global tour that tapestry is taking. It is downloadable from Android and Apple as 'Scottish Diaspora Tapestry'.]



Published Date: May 13th 2016