Prince Charles Edward Stuart Astride Colonel Gardiner's Horse?
The Prince's Derby Statue Says It All

As history tells us, The Prince accepted his Council's advice on December 4th 1745 and turned his horse's head north - it was rumoured to be the horse of Colonel Gardiner himself who fell fighting for King George II at Prestonpans which would clearly know its way back. The Prince astride the horse however is continuing to gaze southwards. This is beautifully captured in the pictures below of the statue erected to commemorate the 250th Anniversary of his departure from Derby back to the Highlands, eventual defeat and exile in France and Italy for the remainder of his life.

click on all images to enlarge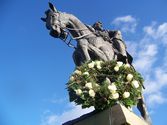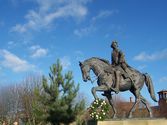 The Trustees of the Battle of Prestonpans 1745 Heritage Trust were present at the annual commemoration in Derby. It consisted of a running battle from the Market Place with the Drambuie Pipes and Drums playing fearlessly, a re-enactment stop-over to roust out the cowering Mayor from Jorrocks, passage by way of the Silk Inn adorned with as fine an historical mural as any Panner could hope to see and concluded with a skirmish on the Cathedral Green [scripted that the Hanoverian redcoats had to win!]. Wreath laying at the statue and Divine Service [the Order is given below] in the Cathedral itself followed - with its outstanding Georgian Nave just completed at the time Bonnie Prince Charlie attended Mass there beneath the Hanoverian Arms set into the Choir Screen.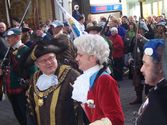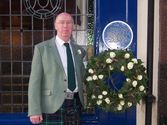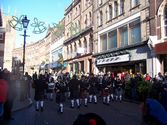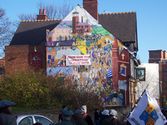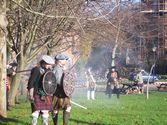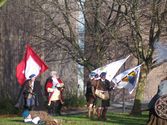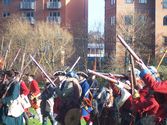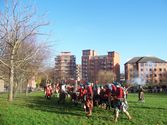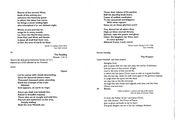 Jacobites would quibble with the headline in the Derby Evening Telegraph suggesting the Prince's army was turned back by any force other than its own Council's democratic vote - a process the Prince vowed to discontinue in future in the true spirit of a Stuart! But the pictures are to be savoured.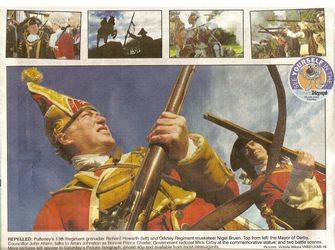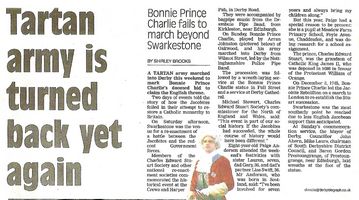 Published Date: December 5th 2006