Giant Killers They Say .. just Proud Panners Really!
Preston Athletic 2 - Stenhousemuir 0

"Preston Athletic became the latest in a long line of Scottish Cup giant-killers with their 2-0 triumph over Third Division high fliers Stenhousemuir.

The team The Prestoungrange Gothenburg proudly sponsors [and we were Ball Sponsor as well for this crucial game], dubbed in the press an 'East of Scotland League outfit', took a 28th-minute lead when Paul Cowie guided home a well taken opener at the Pennypit Park.

Stenhousemuir's Warriors attempted to hit back under the watchful eye of their new manager Campbell Money but Preston Athletic held firm. Then, in the 56th minute, Stuart Miller - a joiner by trade and brother of Celtic striker Kenny - scored another to dump the Warriors out of the competition and claim a second-round tie at either Brechin or Queen's Park - who drew 1 all." [Soccer 365: Ed.]

click on images to enlarge









It was a glorious day and well over 1000 [not sure where 400 for the press cutting came from] attended. The stand was packed.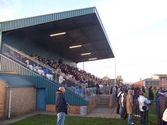 The Goth Bistro & Bar @ The Pennypit

It was the first big test for The Goth Bistro & Bar @ The Pennypit catering not only for the Preston Athletic Scottish Cup Tie but also for home games for Preston Lodge RFC. We don't of course do 'bad news' from the Goth [ever] but there are what are euphemistically called 'teething snags' aplenty not least no Prestonpans Ales on tap and no furniture. Small challenges of course for Men [and Women] with a Van .. Carol Black is leading The Goth team at The Pennypit and with Janette [left] was limbering up in the kitchen as we caught them on camera before the afternoon excitement. And for those who wonder 'where' the Pennypit actually is, its right behind the Preston Athletic goal mouth ....nothing going that way November 18th at all at all .. and the 'Penny Pit' was, you guessed, a coal mine in its day.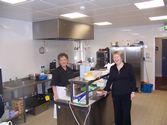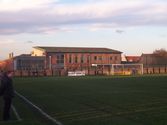 Glasgow Rangers' ezine was there on the day too ... reporting @ www.followfollow.com ... and had this to say!





Published Date: November 19th 2006