John Gibson, getting ahead of Derby, says: "It's gonna happen!"
Online Registered Supporters and More Besides ... are all Invited ...

This Battle website is delighted to report that Supporters are signing up and that an opportunity for face to face discussion takes place at The Goth Bistro @ The Pennypit, Prestonpans on Friday November 24th from 7pm.

Whilst we are pleased John Gibson was sufficiently impressed with our determination, and is confident that we are gonna win the Campaign, there is of course much work to be accomplished before we have any funding in the kitty.

click to enlarge press cutting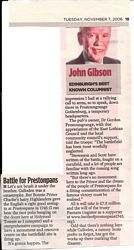 Yet much is happening and we hope as many Supporters as possible can be there on 24th.
_________________________________________________________

This email is shortly going directly to all Supporters.

Dear Supporter

I am writing on behalf of the Trustees both to thank you for registering with the campaign as a Supporter; and specifically to invite you now to a Briefing Session on November 24th in Prestonpans. AND please bring any friends/ colleagues along too who wish to join the Campaign.

It is scheduled for the evening of Friday November 24th starting at 7 pm [but if you need to be a tad late please still come] with complimentary canapes and a cash bar. It is to be held at The Goth Bistro at the new Prestonpans Pennypit Centre just off High Street, Prestonpans, where the Prestoungrange Gothenburg is responsible for its management.

Turn south by the Prestoungrange Gothenburg up Redburn Road, take first left after 75 yards and it is 100 yards along on the right with its entrance to the south side. If you are travelling by bus, the # 26 stops right outside The Prestoungrange Gothenburg.

If perchance you wanted to take supper at the Prestoungrange Gothenburg prior to the Briefing Session please know it serves excellent fare and a table can be booked there by phoning 01875 819922 - we would advise 5.45pm for 6 pm.

We do sincerely hope that you can join us on this evening, but if not we shall certainly be arranging other occasions too. And if perchance you can make it to Derby on December 2nd at 3.30 pm at the Exeter House Paneled Room, please let us know so you can share in the campaign's Derby Moment.

Best wishes and renewed thanks for your support ... and if you need directions for the Prestoungrange Gothenburg by car or rail please go to www.prestoungrange.org and link to 'How To Find Us' there top left.


Published Date: November 8th 2006