Publisher Traced to Angouleme
First The Elgin Marbles at Prestongrange Museum ..now John Unwin ...

Most of us involved with the Arts Festival know that John and Jenny Unwin are the publishers behind the whole Historical Series since 1997 and most lately the Prestonpans and Gothenburg 2007 Calendars and the two massive books published jointly with Burke's Peerage. But why have they fled across the European Union and where are they now to be found?

Well, John has been found at work on his AppleMack as ever with internet phone in place; and Jenny has achieved her lifelong ambition as an artist to open a gallery and of course have time to paint.

Sylvia Burgess, Baron Sergeand, has visited to see how its all going and they all ended up as Angoumoisins [is that John second from left with the others left off off left?] with Petit Fours et Mots de Bienvenue - at a reception with the Mayor of Angouleme as pictured below.

click on press cutting to enlarge but you will need to translate it yourself!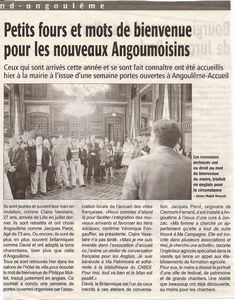 Published Date: October 18th 2006