Kids Play .. Making Mural Art Count in Toronto ...
Murals Routes Canada Helps Kids Play!


Mural Routes is delighted to introduce you to the latest public art mural in Toronto, Ontario. "Kids Play" was painted by artist Bill Wrigley at the Old Leslie Street Underpass (Leslie and Sheppard) over 33 days this summer and fall. The mural was completed on October 11, 2006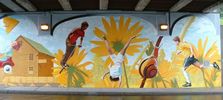 Kids Play - North wall

It was a very challenging project which Bill undertook with his usual zest and the result is a stunning improvement to the grey drabness of the underpass. The vibrant colours and playful motif of the mural are captivating to the passers-by.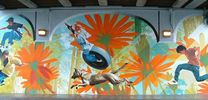 Kids Play – South wall

Funded by the City of Toronto and initiated by the local councillor of Ward 24, David Shiner, the mural is painted on the two abutment walls and four center columns of the bridge crossing Sheppard Avenue just west of Leslie Street.

The mural is the culmination of efforts to promote public art in the community and is a collaboration between Toronto Culture, City Planning's Urban Design Section and Mural Routes.




Pillars- looking west




Pillars – looking east

Bill Wrigley will be making a presentation about Kids Play at the Mural Routes Annual General Meeting on November 16, 2006.

For more information please call 416-698 -7995 or email karin@muralroutes.com

To view more of Bill Wrigley's work, please visit his website www.billwrigley.com

For information about Mural Routes, please visit www.muralroutes.com

Published Date: October 13th 2006