Waiting for Godot? Secret meetings and agreements no way to go ...
Deliberate Frustration of the our Local Communities continues against a background of secrecy ...

George Kerevan MP focuses on the 'secrecy' surrounding Scottish Power's efforts to sell the auld Cockenzie site including the site of the Battle of Prestonpans and much of the Waggonway. The 1745 Battle Trust knows only too well that Historic [now also Environment] Scotland also prefers secret un-minuted meetings with developers. It was at such a secret meeting that Historic Scotland decided to withdraw its Objection to Repsol/ Inchcape's plans to build an Offshore Energy SubStation on the battle's burial grounds!





The new Chief Executive of Historic [now also Environment] Scotland, David Middleton, played a straight bat this week when he responded by letter to the 'fresh evidence' the Trust presented to him as he took up office last year - that the proposed location was indeed the burial area for the casualties on both sides. He will act in accordance with Government policies ... and we thought it was an independent quango protecting inter alia the National Battlefields Inventory.

So where are we in the long struggle to assert community interests hereabouts?

The Coastal Regeneration Alliance are rightly making a legal challenge to their brutal rejection this week. And they should also take their case to the Ombudsman on the grounds of Maladministration. Meanwhile, however, most of us are frankly waiting for Godot!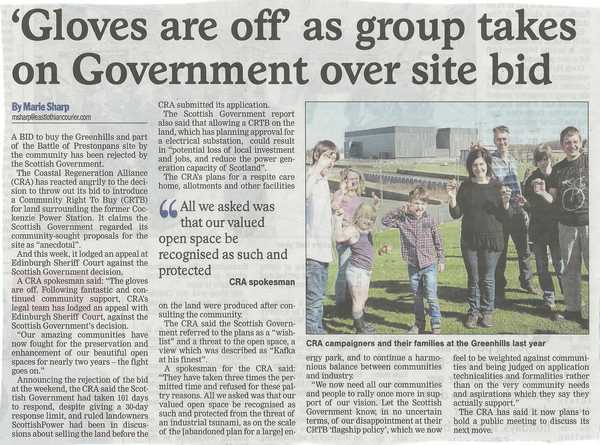 This year, sometime never, Repsol or AN Other will table proposals to East Lothian Council to have their wicked way on the battle site. That will be the moment we shall once again exert maximum community pressure on all concerned. And that's when we now 'confidently expect' Historic [Environment] Scotland to re-erect their long awaited and presently sadly missed Objection. If the SubStation is to be built it can be constructed to the north on the existing brownfield site of the auld coal store!

And the thousands of supporters of the Coastal Regeneration Alliance at large will be back in action once the 'secret' buyer surfaces from The Forth with plans for the Greenhills and the balance of the auld Power Station lands - and seeks planning permissions from East Lothian Council!



Published Date: February 26th 2016