King James VIII and III 'Well Remembered' in Rome!
Auld Pretender recalled in Rome

The man whose birth in 1688 triggered the overthrow by the English Parliament of the male Stuart line to that throne, but who was subsequently recognised by The Pope in Rome as King James VIII and III of Great Britain and Ireland, was remembered in Rome on the occasion of the 250th anniversary of his death.

This man was the father of Bonnie Prince Charlie. He had on his own account in 1715 landed in Scotland in the hope of recovering his throne but like the Bonnie Prince in 1745/ 1746 he was unsuccessful.

The Scottish Catholic Observer gave good account of the occasion, with HM The Queen's Ambassador to The Holy See, Nigel Baker, laying a wreath at St Peter's Basilica.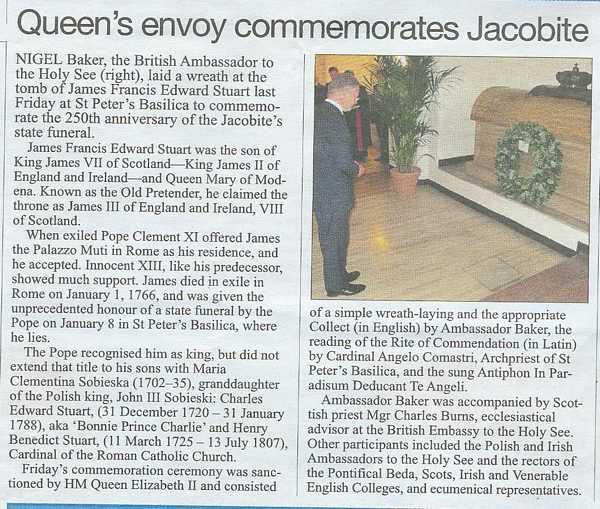 [Ed. As the report confirms, Bonnie Prince Charlie was never recognised as King Charles III [1766-1788] so His Grace The Duke of Rothesay will be able to take such nomenclature with no concerns should he so choose one day hence.




Published Date: February 8th 2016