Alan Brecks Dine @ AGM and Ponder 2016!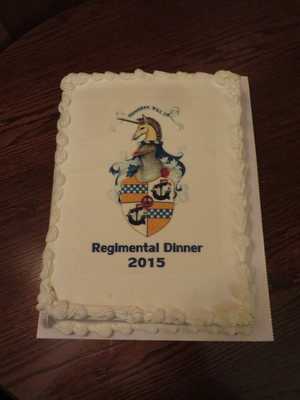 ... the Brecks had both soup and cake at their Annual Regimental Dinner at The Prestoungrange Gothenburg on November 28th

... and they dined in style on the Regiment's own tableware that carries their Arms.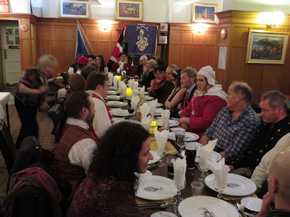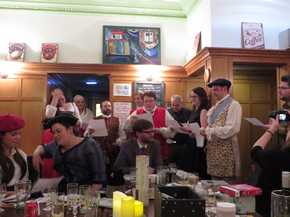 It was an excellent evening with a score and more attending, and as ever it was the occasion for Colonel-in-Chief Martin Margulies to address them all. He had to confess, after hearing the litany of re-enactments during the past 12 months, just how greatly the Regiment was growing, and his pride in office along with it. And he brought special Greetings from Friends of the Regiment in Canada. Martin is, of course, author of the internationally recognised definitive book on the Battle of Prestonpans [available from the Boutique/ Shop to the left on this page!].

The photograph, to the right above, shows that the Regiment can sing, led by redcoat Captain Fletcher alias Brett, both for its supper and afterwards with the Drambuie. Aided perhaps by the Beer Tasting the Regiment had volunteered to undertake for Fowler's Ales!

The evening's mystery guest was Eric Rosoman

There he is below, left, atop the Bing with Arran Johnston. And centre seated in front of the Singing Brecks. He's the man who has just completed the successful APP for the Scottish Diaspora Tapestry [that's its name on Apple and Android - free download]. Now his attention is turning to both the Battle Tapestry and Battlefield Walks. It will be triggered from the Trust's interpretation boards across the battlefield but with the Bing itself as the ideal starting point. Yes it will be in Gaelic as well as English + French. So any and all who were there in 1745 will have no problems understanding it!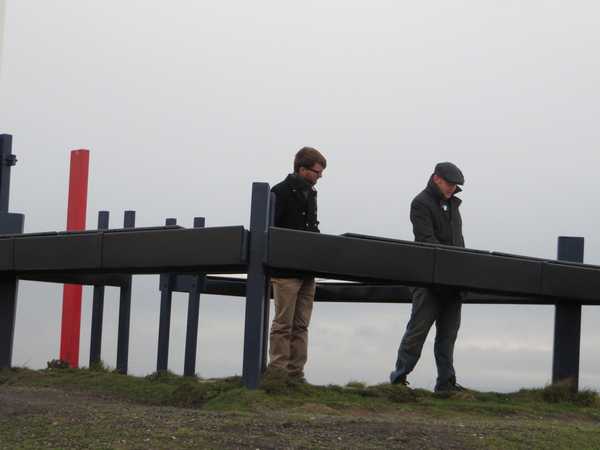 Published Date: December 1st 2015