The Goth is indeed for sale .. ideally to the Community!
Invitation to the Community to explore its proffered Right to Buy .. before April 2017

The East Lothian Courier carried the story ...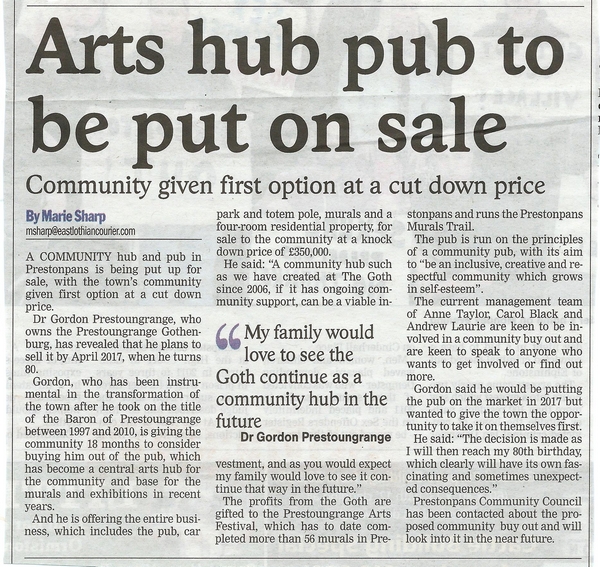 Does that make good sense? What will be key success factors for the next decade if the Community indeed resolves to buy howsoever?

Here's the initial set of thoughts that the press article has provoked!

There's no such thing as a 'Pub' anymore where folk socialise, drink and smoke and drive home! Or even walk ! We have smoking bans, alcohol limits, noise abatement, ultra-low prices of alcohol in supermarkets and corner stores … but many fine 'community pub' institutions like The Goth are continuing by continually redefining themselves. Since 1908 The Goth has already done it many times … and there are plenty of exemplars nationwide …

Pubs that survive become new style of social/ community assets .. The Goth has the image and the history and is frankly iconic way beyond The Pans [The Lord Mayor of Gothenburg has been 3 times!] ... if the Community is to Buy it will be because of what happens next rather than what we have as our status quo after the last decade of investment and creativity for the community.

Do we believe The Goth can be a lot better, have a better future yet? Yes of course we do. The Goth needs a community fillip, a big fillip, to raise it to new heights ...

Food .. cafe/ bistro/ restaurant meals … vital menu is ever more inspiring and famed for its Specials. Maybe Guest Chefs and Great Bake Offs/ Cook Ins/ Salt Making / Seafood Festivals ....

Real ale/ good wines ... volunteers to lead the microbrewery as Management Team for Fowler's Ales, to get it all whizzing and the CAMRA links/ BrewSets/ Beer Fests, and excellent wine tastings too.

Functions and events … are absolutely vital … either [i] The Goth itself organises even more, so future needs an Events [we've had thousands of events/ happenings from Witches Memorial, Belfield Pottery to Salt Making and McGonagall] Taskforce of local folk .. volunteers all ….

or [ii] they walk in the door [like Josh Taylor/ Davy Steele fans/ Bay City Rollers] if you are the heart of the community

or [iii] are No Brainers like Mothers' Day/ Battle Re-enactments/ Christmas/ Burns Night/ John Muir Walkers but even here The Goth can very much raise its game.

Arts support .. murals creation, maintenance, tours/ exhibitions/ tapestry displays/ diaspora tapestry franchise/ stitcher groups/ club with regular speakers and socials etc. .. led by a Community Taskforce
... and Music/ open mikes etc but within the neighbourhood parameters] ... Home to the 1745 Battle Trust and the Scottish Battlefields Trust [re-enactments/ meetings/ exhibitions ]

How does the Goth % go back to the Arts? ... currently the % is allocated mainly to front loading with gratis use of the premises by arts folk and groups … office space, phones, copier, messages, no room charges. Barons' Courts as Prime Leaseholders fund the Arts Festival directly, Burris Bursaries, the workshops, new murals, murals maintenance, and helps with grant applications.... [current official mechanism is via PAF 2006/ Barons' Courts]

Great staffing / owners … everyone loves the BLT LLP crew ... Prize winners [we can list them all from CAMRA's Best UK Pub Restoration of the Year upwards!] but we know prizes alone are not enough ….

CONCLUSION … Additional/ New team of community activists and volunteers can take The Goth well above our own expectations ... so IF the Community takes it on The Goth must:

+ Raise the game ever higher still on food
+ Get a brilliant high energy crew doing Events
+ Get a vibrant Arts Taskforce rolling ...
+ Get microbrewing swinging high with its real ales and Beer Fests and Wine Tasting nights
+ Encompass the wealth of management experience and community loyalties of the BLT LLP management team

All ideas and critique to the BLT LLP team [Anne Taylor/ Carol Black/ Andrew Laurie] at The Goth please ... it's closed Mondays of course but open from 10 am the rest of the week and in full swing Thursdays/ Sundays. Formal Opening Hours are posted at the doors ... and the phone is 01875 819922.




Published Date: October 19th 2015