No choice needs to be made then! It's what 'the communty' needs that will prevail ..
Most of what needs to be said, seems to have been said. From now on it's all about the detail and the differences between needs and wants!

This week's press cuttings capture much of what needed to be said. Particularly welcome are the comments from our SNP MP in Westminster and our Labour Leader of ELC. And surely Iain Gray from the Scottish Parliament. Let's get the site into community ownership and then get together with Scottish Enterprise to explore an appropriate plan for its future use.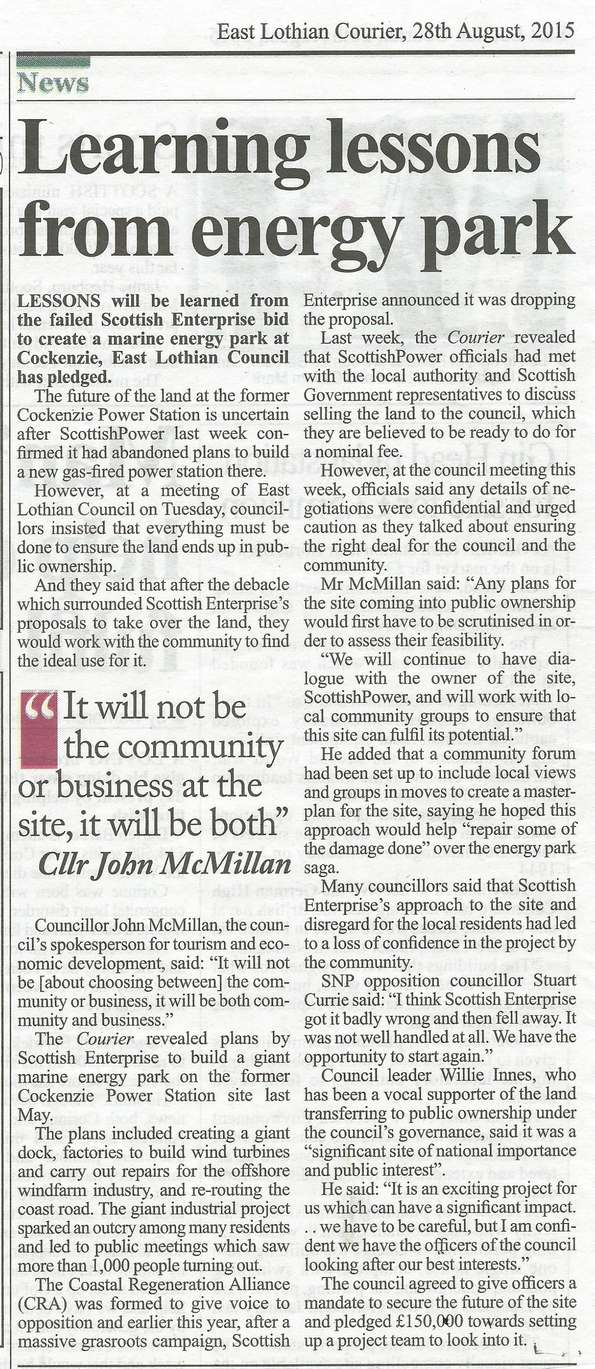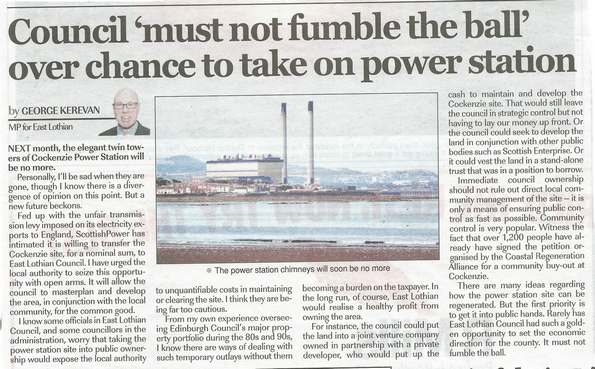 It's unclear what future mileage there will be for the Community Right to Buy initiative if Scottish Power prefers to sell to ELC, but the momentum and determination that CRA reflects has rightly earnt it pole position on the grid as the new ELC Project Group begins its £150,000 exploration of options.





The Battle of Prestonpans 1745 Heritage Trust has long set out its ambition - to return the battle site west of the Tranent/ Cockenzie road to agriculture and to create a Field of Remembrance at the western end where many of the burials took place some 270 years ago. And if no longer required for the future of the site to the north, the Trust looks for the infilling of the rail cutting and the removal of the pylons. It most certainly does not want to see Inchcape Offshore build a SubStation on the battle site and anticipates that if that project goes ahead a location on the brownfield land to the north vacated by Scottish Power will be used in its stead. The Battle Trust would prefer to own the site but is content if the community's best interests are served by a long lease.

The Arts Festival and CRA have been working together lately on a scheme first proposed [unsuccessfully] some 8 years ago to the Heritage Lottery Fund to conserve and interpret the ancient Wagonway from Tranent to Cockenzie that would include a small section of recreated wagons and restoration of Cockenzie harbour. There a good photographic records from the recent discoveries in the loft at Cockenzie House to make such ambitions readily achievable.

The CRA has also made a range of other proposals derived from its deep community involvement which most especially include the preservation of Greenhills and the installation of a boardwalk and esplanade along from Port Seton to West Pans. And the CRA has also been consistently in favour of appropriate industrial facilities that do not impinge unacceptably on either the coastal perspectives or the residential areas that have been created since the pit closures in the 1960s.




Published Date: August 31st 2015