Yes! Diaspora Tapestry personal copies of the Complete Guide are now in the post to Stitchers worldwide ...
It will be a wee while before they arrive mind you ....

All copies promised in the air mail letter dispatched two weeks ago are now in the post to Lead Stitchers of each panel [or awaiting collection if that's what the letter said!]. The pictures below show half the operation in fine sunshine from Gordon's garage working with Sylvia Burgess [left].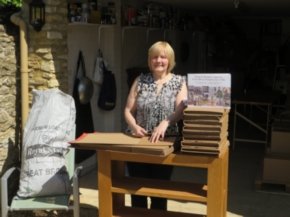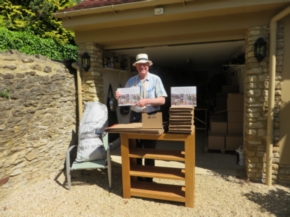 [We've no pix yet of the other half in action north of the Border]

As most will know, postage these days can be a tad complicated. Canada and Cambodia wont accept packages weighing more than 2 kg. That's why we published the Complete Guide as 95% of A4 just sneaking into the 'less than' 2 kg. category. 2 kg. is also a potent price break for mailing. The cost nonetheless to deliver across the globe is most considerable [although of course well worth it when the Guide arrives!].

Until August 31st 2015 the 17% discount applies - on the cover price of both the Complete Guide and The Art of Narrative Embroidery if you order at our Arts Festival Boutique DIRECTLY HERE

Go to the listings at top on left. The discount is applied when the Order is completed. Then if you're outside the UK on mainland Europe or anywhere else in the world you have postage options. Outwith Europe you can either pay for International Standard [quicker/ 2nd class air mail/ World Zones 1 & 2] or opt for International Ordinary [considerably slower/ auld sea mail for all Zones].

N.B. If you are receiving your complimentary copy from us by post it will be coming International Ordinary i.e. slowly. Sorry about that but it's a very big budget item for all 305 stitchers.

If you have queries, the person to contact is Sylvia Burgess as pictured above, email linked here sburgess@prestoungrange.org ; but she is on vacation for two weeks in June so her response may take a while.

Best wishes to all; and here's knowing you'll love the book[s] when you get them.




Published Date: June 4th 2015