When the New Zealand Police Called Time at The Goth!
Alastair Sneddon Rules The Goth in the 70s

More true tales of The Goth our ancestors so revered are coming to light. And there can be no grounds for doubting their veracity since they come from the keyboard of a Panner who had a 14 years career with the New Zealand Police as a detective, photographer and fingerprint expert. That was before he became publican at The Goth for Tennent Caledonian from 1974 - 1976. But he's safely back in NZ now living in Ranfurly, Central Otago, inland from NZ's Scottish capital of Dunedin; so the tales can be told!

Click on all images to enlarge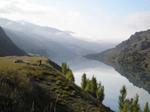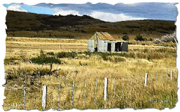 Alastair's mother was a Sutherland staying at 20 North Grange Road, whose family had once been coal merchants. He found us on the web [as more and more Pans Diasporites do these days]. It's clear from the photograph [submitted for his earliest passport?] that she was a stickler for proper dressing.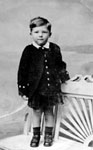 He writes:

"I married a Kiwi girl. When I first arrived in New Zealand I stayed in Timaru then Dunedin and Auckland. After that I resolved to return for a while to Scotland where I had my Goth Experience as recounted below, returning after that to Auckland, New Zealand in the early eighties. In Auckland I became a Regional Manager for Camera House, a division of Kerridge Odeon, the theatre people. Eventually moved back to Dunedin to take up the franchise for two Camera House stores there".

My Gothenburg Experience

Alastair explains why he came back to Scotland after staying in New Zealand a good many years.

"I had just completed a fourteen year career in the NZ Police as photographer/fingerprints and latterly as a detective. The spouse and kids were Kiwis and had never been to Scotland and so I knew they needed the induction. We moved there in 1972. I got a job as a relief manager for Tennent Caledonian Breweries working variously at Tranent, Haddington, Juniper Lea (near Pathead) and more.

One Sunday night the Area Manager, one Laurie Morton, phoned me and I really expected it was about my taking over the "Keepers" in Tranent the following day. However he surprised me by asking if I would take over "The Forth Tavern" instead. [The Goth was briefly known as The Forth Tavern having begun life as "The Trust Tavern", finally taking the name "The Gothenburg" in 1986.]

My wife and I had previously worked there part-time. And we were not at all keen as "The Forth Tavern" certainly lived up to it's reputation as being a miners' pub and not at all genteel. I managed to negotiate a deal with him and turned up the following morning at opening time much to the suprise of everyone. Morton handed me the keys and said the upstairs flat would be vacant in a week!

The departing manager had been imported from "The White Cockade" in Rose Street and was supposed to be the 'bees knees'. He had been on the fiddle for some time, not even discreetly, and had kept Heather and I on his wages' book even though we were being paid from Tennent Caledonian in Edinburgh. Coincidentally that manager had taken over from another Alastair who hailed from Fife and was married to Shanter's sister. Shanter Jnr. still lives there as far as I know. My predecessor at The Forth Tavern went to the "Auld Toll" nr Newtongrange where his antics finally caught up with him and the brewery's balance sheet improved again.

[For the record, the competition at "Railway" was managed by Tammy Sinclair and at the "Johnny Cope" by Jimmy Cairney!]

East and West in the Bar!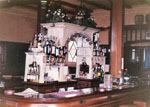 In those days the two sides of the bar were very different. The side opposite the fireplace [east] was known by those drinking on the fireplace side [west] as The Masons' side - a misnomer actually for although some were, most were just working men i.e. employed and earning. Several of those on the west side were of the Popish persuasion, but most especially were more creative in securing the price of a pint. Many deserved PhD's through their knowledge of the dole and social security benefits. Many were bums and swaggies. Names had better not be mentioned here because of libel laws and the living descendants of some of the most creative characters in their day!

Opening hours were 11 am - 2 pm, then 5 pm - 10.30pm. At 4.55 pm on a Saturday I would head down to the bar wondering not IF there'll be a fight tonight but how many! I had a great old barman, very experienced, a Hughie Martin by name and a Belter by birth. He was really good behind the bar except when there was trouble when you would find him in the cellar!

Tale of the Pint Handle

One night we had a function upstairs and I was running that while Hughie and his son were down in the public bar. Someone came up to me and said that there was trouble downstairs. When I arrived in the public bar it was packed and I learned that 'young Hughie' had been hit on the head with a heavy pint 'handle' and his head split open. All because someone wasn't being served quickly enough. When I made enquiries, guess what? Nobody had seen a thing!! Talk about Cosa Nostra, I think they learned their code of honour in the Pans. ['Tis true that Italian glassmakers were here in the 18th century -ed.]

Yes, the pits had closed. I had myself worked at The Grange prior to leaving for NZ just after my 18th birthday in 1956. As for Fowler's, I was brought up for a while at 4 High Street which was a Fowler's house at the bottom of Robertson's Avenue.

Darts Novice Wins the Tankard!

My wife Heather was encouraged to take up darts and she took to it like a duck to water. The pub dart team had been excluded from the league for unpaid dues and unruly behaviour but I promised that if they mended their ways the back dues would be paid. After their reinstatement we all went to the Elphinstone Miners' Club one Sunday. My wife played mixed doubles with 'Guggs Smith' and won a few games which bewildered my wife, she only having played for a few weeks. They ended up winning the tournament, beating a 'super league' couple who refused to shake hands after the game. It didn't help when I told the vanquished that my wife had only been playing for six weeks. We still have the Winners' Shield and two Haste Ye Back Tankards that I am trying to trace, using my rusty detective skills!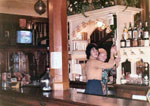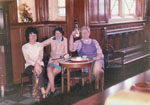 Published Date: July 23rd 2006