Accumulator Exhibition now complete at The Goth till May 20th
S T O P P R E S S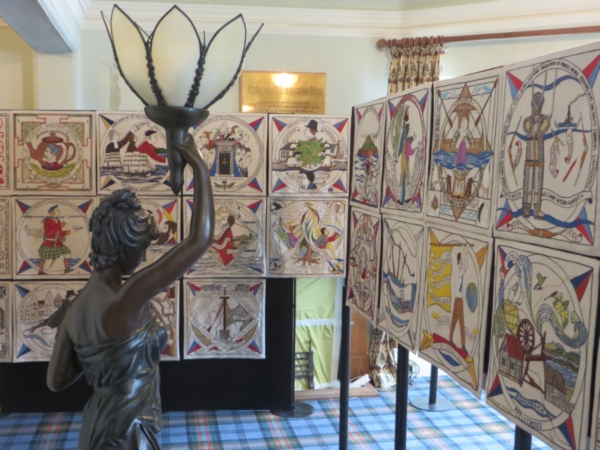 This is the last chance to see the remaining 88 Diaspora Tapestry panels in Scotland before they join the original exhibition in The Netherlands and then travel around the world till 2017 .. at The Gothenburg [closed Mondays] until May 20th ....

You could of course go to Veere in The Netherlands till July 28th; Barga or Picinisco in Italy in August/ September; or to Paris in October. After that it's Australia, the USA and Canada till end November 2016.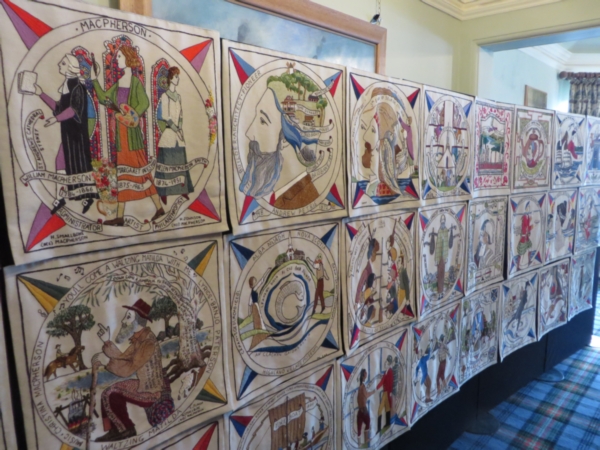 Needs must! The Captain's daughters from RRS Discovery II made their way from St Andrews ..

Frankly they couldn't stand the wait till 2017. They knew they'd only got till May 20th, so it was time to travel to The Pans .. and later to enjoy lunch at the Goth of course. Well done. And as a bonus they communed with designer Andrew Crummy who was in The Goth for a panel wrap up session!

The diaspora panel in question [below] is the only one from Antarctica [AQ 01], unfairly clustered with The Americas although there's a gap in the typesetting. The ladies in question were Bea Cowan and Liz Hill who confessed to but a 'modest' stitching contribution. The main work, as might be nautically expected, was from the daughter of RRS Discovery II's Ship Engineer - Leona Thomas.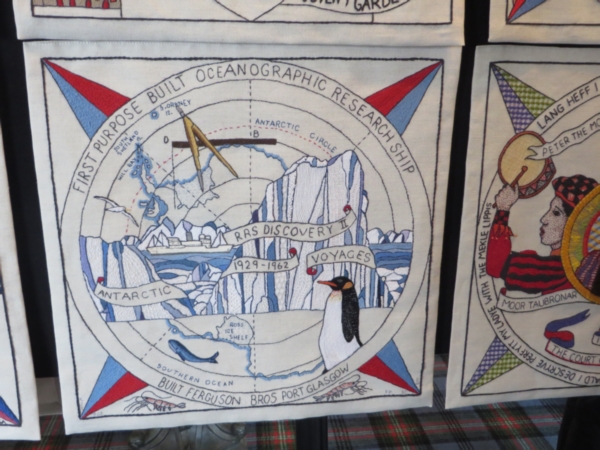 ____________________________________________________________________

[Ed.] AQ 01: RRS [Royal Research Ship] Discovery II was the first ship ever built for oceanic scientific research, and was constructed in Port Glasgow by Ferguson Brothers in 1929. It sailed through until decommissioning in 1962, circumnavigating Antarctica four times and rescuing Lincoln Ellsworth and Hollick Kenyon from the world's southernmost point of open ocean during Bea and Liz's father's Captaincy. Its particular scientific concern was to learn and understand whale migrations.





Published Date: May 16th 2015