Let's get the story right .. about the Waggonway from Tranent/ Cockenzie
Long held Waggonway ambition may soon be achieved ..

It's long been on Agendas for conservation and interpretation, but maybe, just maybe, it might happen in the next year or two. An HLF Grant Application was unsuccessful nearly a decade ago, but hope springs eternal and a determined new approach is being taken.

The ambition is to conserve and interpret the heritage and history of the gravity Waggonway from Tranent to Cockenzie. It was Scotland's first and opened in 1722. It was there when the Highlanders routed Johnnie Cope in 1745. In fact it was still there until closure in the 1960s although steam had replaced gravity!

The very best news came last year when a search of the attics at Cockenzie House discovered mid 19th century 'photographs' of Cockenzie Harbour with coal wagons being unloaded onto coaler ships. Searches of the local newspaper archives have also found a goodly selection of images.

Ed Bethune from the Coastal Regeneration Alliance [CRA] has been out walking the route with Gareth Bryn-Jones and others and has found intriguing archaeological remains. Below we see a sleeper stone to which the rails were fixed and there are remains of a bridge across the rail track and details at the harbour itself.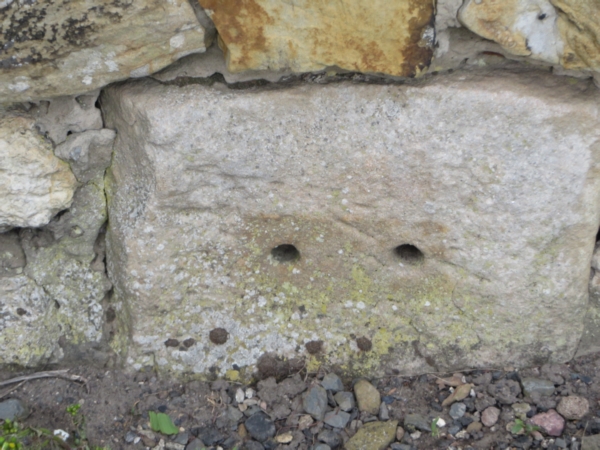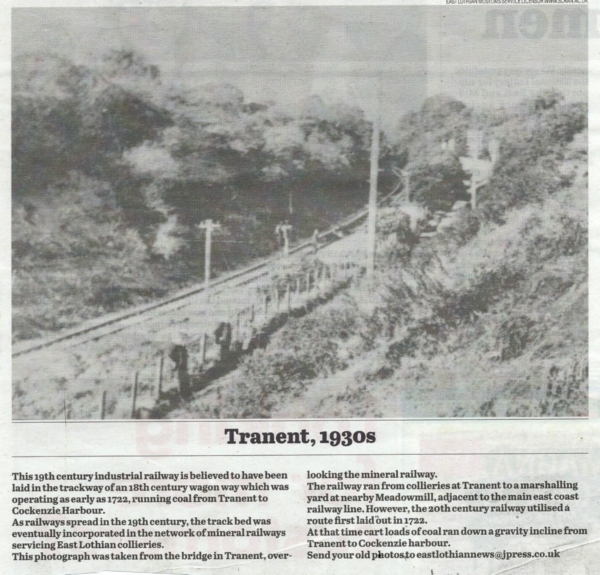 This LINK HERE gives details of earlier endeavours, images and research.

_____________________________________________________

What the new initiative hopes to achieve!

The project will conserve and interpret the role, significance and nature of Scotland's first gravity railway that carried coal from Tranent to Cockenzie harbour, crossing the site of the 1745 Battle of Prestonpans.

It was originally constructed with wooden rails in the 1722 and continuously upgraded until closure in the 1960s. The route has been preserved as a footpath over most of its length but never [yet] interpreted.

Recent discoveries of mid 19th century photographs (circa 1850) show pictures of the wagons used and the facilities at Cockenzie harbour. Archaeological remains of the Waggonway and salt panning industry are also visible along the walkable route and near Cockenzie Harbour itself.

A replica wagon will be constructed and interpretation boards placed along the route, and the accounts of the transit and export of the coal arriving at the harbour will be presented along with the ships that carried it away.

Such a project has great scope for local and national history education as well as for tourism. This latter is greatly enhanced because the Waggonway is positioned as a spur for the existing John Muir Coastal Trail.

Any volunteers who can support this initiative howsoever are asked to contact Ed Bethune. Just leave words at The Prestoungrange Gothenburg or with the CRA or send him an email ed.bethune@btinternet.com


Published Date: October 8th 2015