Manchester Regiment Remembered; martyrs of the '45
Few English Jacobites rose to support The Prince in 1745, but amongst them were the Officers and Gentlemen of the Manchester Regiment

As Bonnie Prince Charlie retreated from Derby in December 1745 he left the Manchester Regiment to garrison Carlisle despite wise counsel that said it was indefensible.

Cumberland soon besieged the city and would brook no conditions of surrender regarding all Jacobites as traitors. When the city surrendered they were treated abominably, in a foretaste of the treatment post-Culloden, and with their Officers marched to London.

Francis Towneley, Colonel of the Manchester Regiment, along with nine other men from that Manchester Regiment and seven Scots, were eventually put to death on Kennington Common, London in 1746. All except Towneley were buried in St George's Gardens, Kings Cross. Colonel Towneley was buried in the grounds of Old St Pancras Church, close by.

The 1745 Association is to remember this event by the installation of a plaque in The Gardens. Its unveiling by the President, Dr Christopher Duffy, the distinguished military historian of The '45, is at 12.30 on April 25, 2015.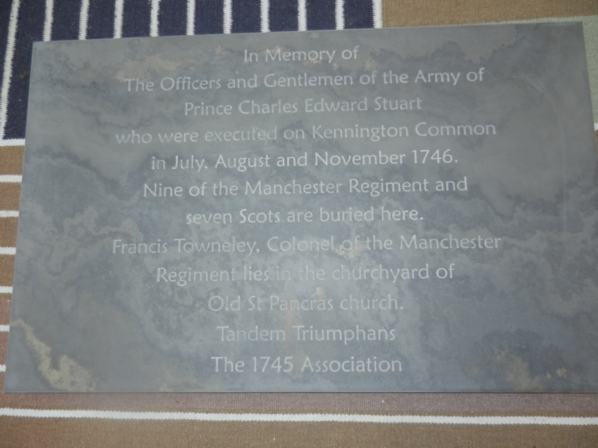 Members and representatives from The Battle of Prestonpans (1745) Heritage Trust are cordially invited and very welcome to attend.

Tandem Triumphans




Published Date: February 15th 2015