"Having the CRA represent a section of the community ...." Cllr. John MacMillan
John, it's more than 'a' section of the community being useful. The CRA has the support of more local inhabitants than voted for the local Councillors hereabouts ....

They say Jaw Jaw is better than War War, and if that be true in our case, it was good to see the CRA holding a Question & Answer session at East Lothian Council on January 9th. Not a Petition note, that's ultra vires, but Q&A.

But clearly it's not going anywhere fast in Haddington. 'Ongoing communications' sound close to consultation and transparency as meaningless constructs in this stooshie.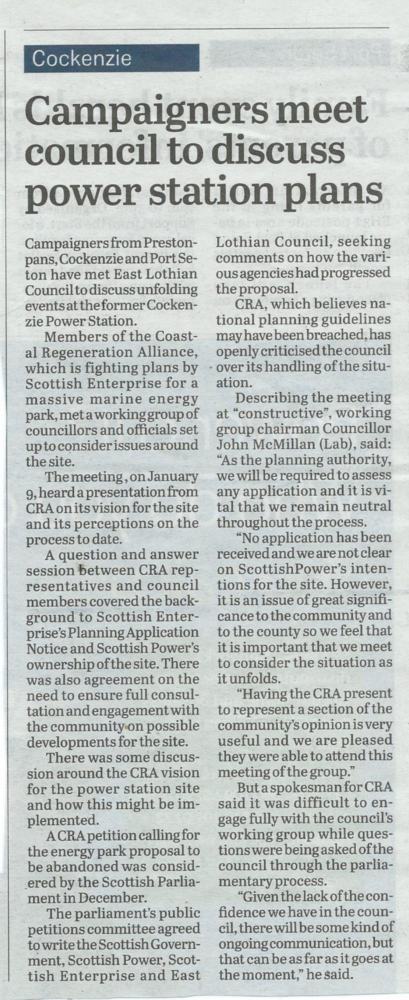 Let's hope nobody in East Lothian Council or beyond is underestimating the views represented by this 'section' of the community! Last week the National Trust for Scotland agreed to join in the recently launched Scottish Battlefields Trust which is inter alia campaigning for much more effective planning laws in that sector - which is very much a part of our own community argument.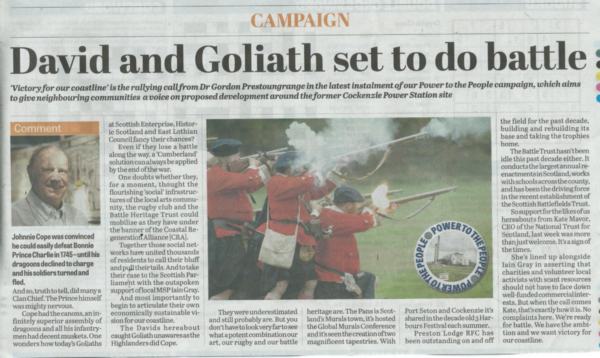 East Lothian Courier Senior Reporter, who first broke t story in May 2014, commented:

'MEMBERS of a group set up to oppose plans for a massive energy park at Cockenzie have met with East Lothian Council's cross-party group to discuss the proposals for the future of Cockenzie Power Station and the surrounding land. The proposed energy park would encompass the area around the former Cockenzie Power Station

'The Coastal Regeneration Alliance presented the council working party with the community's vision for the site and quizzed officials and councillors about their involvement or knowledge of Scottish Enterprise's proposed energy park.

'But they claimed the council appeared to have adopted a "non-proactive stance" by insisting they could do nothing until plans for the site were lodged.

'Councillor John McMillan, chairman of the working group and council spokesman for economic development, said he felt it was important to meet with the CRA, who, he said, represented "a section of the community's opinion".

'He said: "As the planning authority, we will be required to assess any application and it is vital that we remain neutral. "No application has been received and we are not clear on Scottish Power's intentions for the site. However, it is an issue of great significance to the community and to the county so we feel that it is important that we meet to consider the situation as it unfolds. "

'But CRA spokesman Gareth Jones said: "We cannot support the council's stance on taking no proactive forward planning action on the whole site on the basis that to do so would in some way be prejudicial to the planning process. This is potentially a huge development with wide-ranging social, economic and environmental implications. The Council must take some proactive action to engage with the adjacent communities sooner rather than later. That does not need to involve any direct comment on Scottish Enterprise's proposals but would give those communities an opportunity to have a say in the council's own statements on the future designation of the site."


Published Date: January 17th 2015