The Goth Goes Alfresco .. but Christmas First!
As below, the PopUp Cafes will be a permanent feature outdoors at the Gothenburg .. where the sun often shines!

Planners agree it's a bright idea to dine and enjoy the Goth's hospitality in the side garden. It's been a success these last couple of years on a PopUp basis and now it's officially got the go ahead.

Willie Innes can of course recall the days in the last century when The Goth was not quite so genteel as it is today under the leadership of Carol Black, Andrew Laurie and Anne Taylor but there's been no looking back since 2004. Its arts and craft splendour and its CAMRA award as the UK's top pub restoration in 2005 set today's tone ..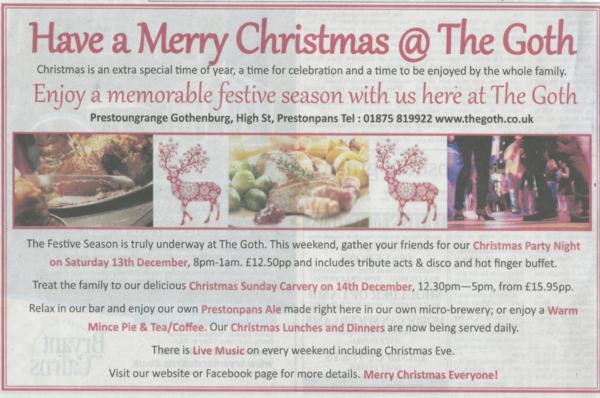 ... but if you're in any doubt, just get along to see the Edwardian Christmas that's there to enjoy as detailed above. Since 1908 the Goth has served the town in many guises .. Edwardian takes us back to when it all began, thanks to Thomas Nelson III.




>


Published Date: December 11th 2014