Diaspora Tapestry gets set for its Diaspora Tour ... only naturally ...
It was only to be expected; the Diaspora Tapestry is to tour to the very embroiderers who created it

It's a daunting challenge. How to take the 300+ panels around the world to as many as possible of the communities whose tales it tells and whose embroiderers created the artwork.

Clearly it needs funds to pay for freight and accommodations and the hire of exhibition venues and display boards. And the first elements in the budgeted necessary funding of some £70K is gratefully in place - £30K from the Scottish Government which did so much in myriad ways to help the achievement of this truly spectacular artwork. The Arts Festival is currently approaching other potential sponsors, not least CreativeScotland which also played a major part in ensuring the necessary support was available in 2012/ 2014.

Already venues are being firmed up for 2015 and 2016 across the Baltic, Western Europe and Australasia. North America and Jamaica are in our sights later in 2016.

P.S. For those who wonder where its permanent home will be when not touring, the answer is at the Prestoungrange Gothenburg in Prestonpans. During breaks in its touring till 2017, it will be there at The Gothenburg on display on a country/ regional basis. In its honour, Tom Ewing has painted the car park's sea wall with some reminder images and text. And he's added the first public wee portrait of our designer/ artist Andrew Crummy.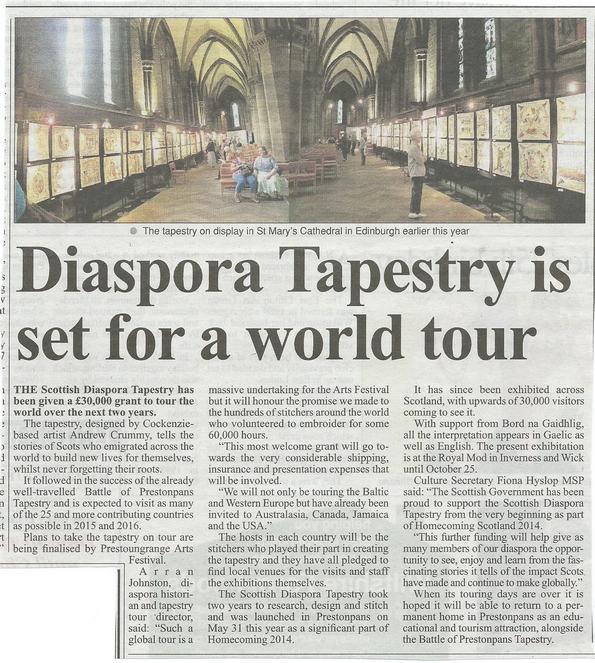 Published Date: October 26th 2014