Battle Tapestry in Oban for Fasanta Festival: November 1st & 2nd
Battle of Prestonpans Tapestry delighted to be in Oban for annual Fasanta Festival

It's only for a long weekend, but the Battle Tapestry from Prestonpans is delighted to make the journey to Oban for the weekend November 1st/ 2nd.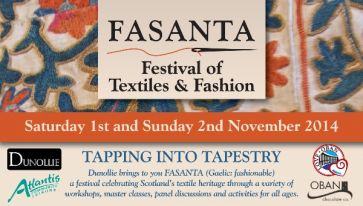 And Oban scores another first for the tapestry's display. It's been exhibited alongside its inspiration in Bayeux, south of the Border in Corby, at Scottish Cathedrals, Pornichet's Hippodrome in France and countless Community Centres and Halls where it was stitched in 2009/ 2010. But this is its first visit to a Distillery - Oban Distillery. Entrance is £4/ Children Concessions £2.

There are all manner of activities quite apart from the Prestonpans Tapestry of course.

FULL PROGRAMME OF EVENTS DETAILED HERE

P.S. Another first is the Tapestry Treasure Trail!




Published Date: October 18th 2014