Prestonpans Community Council misled by mispeaking .. that's the truth of it!
In the bar at The Prestoungrange Gothenburg misunderstandings were clarified ... who misled with mis-speaking was the issue at hand!

'Twas great to meet and welcome once again the Chairman of Prestonpans Community Council in the James Fewell Bar as the Highlanders and Redcoats celebrated together on Saturday night. But there was a serious word or two to be had.

Was it true that the Community Council had formally approved the construction of an electricity Sub-Station [two buildings] on the Prestonpans 1745 battle field?

"Certainly not! So far as the Community Council was concerned, it had been informed that the problems had been resolved."

No need to wonder who mis-spoke to suggest the problems had been resolved. As Chairman Jimmy Yule enjoyed his Fowler's brewed Battle Ale, a 6.2 Wee Heavie, the story unfolded.

The only problems that had been resolved were at Historic Scotland where after [Inch] Cape's caper of shifting the proposed Sub-Station around on the same piece of battlefield they withdrew their original significant Objection.

The mis-speak that misled the Council is now firmly attributed to [Inch] Cape.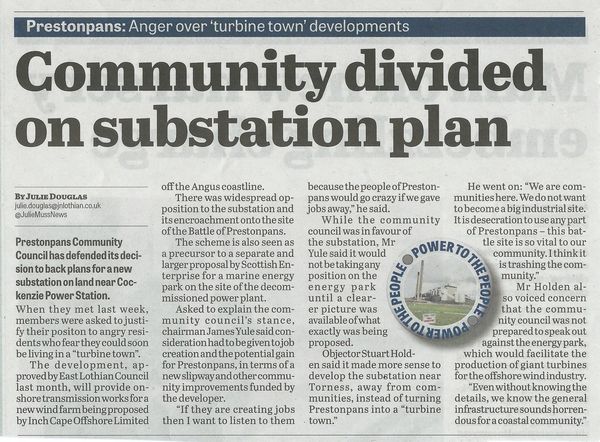 Full details are being made available by the Battle Trust of the implications of the [Inch] Cape proposals already approved by East Lothian Council Planning Committee in the expectation that at its next meeting the Community Council can reconsider its earlier conclusion.



Published Date: September 23rd 2014