Power to the People: Petition Builds after 800+ attend latest CRA Meeting
Petition gathers thousands of signatures ..

East Lothian Council's planners must be wondering what they've unleashed around Prestonpans/ Cockenzie/ Port Seton/ Longniddry/ Tranent ... and more besides. Maybe the Coastal Regeneration Alliance was just slumbering after its first initiatives 2 years ago, but the legerdemain that's emerging's certainly brought us all to life.

800+ turned out for the latest session together - only to be provoked with the latest extraordinary decision running totally counter to the community's expressed wishes. In the name of the Scottish Government, and 'the future', the community is to be ignored and the Coalition in Haddington is determined to support Inch Cape's proposal to build their SubStation on the battlefield.

Yet as the press has reported that's only the first skirmish - and the Battle Trust have no intention of accepting that decision as as a fait accompli. The truly monumental battle yet to come is for even bigger stakes. Already planning blight is affecting residents' property values. It promises to transform the lives of half the local residents. It would be the biggest industrial development ever in East Lothian. It's that Energy Park idea.

It's not transparency and consultation the Petitioners want. It's a total stop to the entire Scottish Enterprise Energy Park; to stop it in its tracks. Then let's have a serious discussion as to what our community here wants not what others suggest should be done to us.

As Gareth Bryn-Jones has confirmed to the East Lothian Courier it's a mystery how the scoped proposal got as far as it did before their Senior Reporter Marie Sharp blew the whistle. It now seems increasingly likely that the Executive at the Council 'volunteered' us all a year ago without a word to anyone who was going to be affected. Surely not the proper way to run any project which impacts on such a gigantic scale.

The honest question is, who is trying to hoodwink us; bounce us into something we really don't want?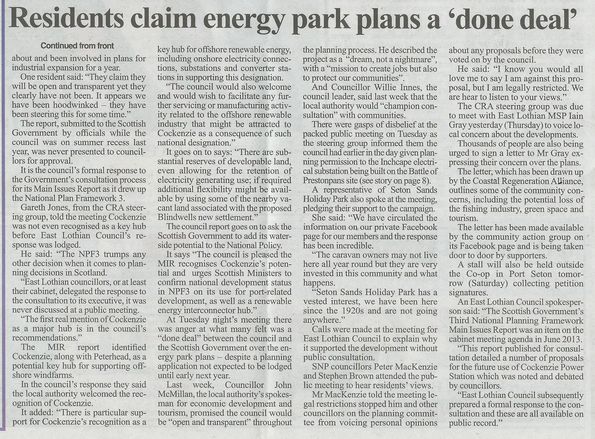 The East Lothian News also addressed the story under its Campaign Banner, Power to the People.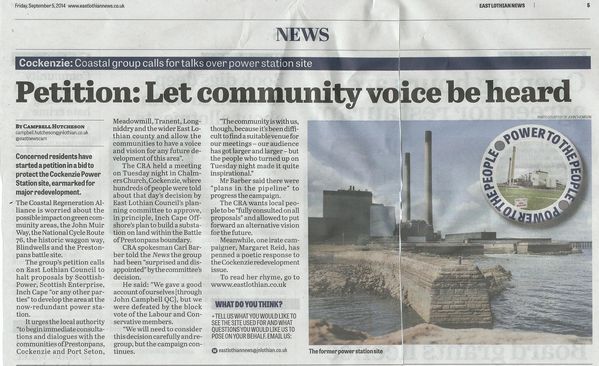 Published Date: September 5th 2014